No matter who you are or what your diet consists of, trying to find satisfying meals on a college campus can be tricky. Being a vegan (which I recognize is a privilege that comes with given challenges,) I have struggled myself to eat fulfilling meals consistently on campus. Sure, my college can claim we have a "tasteful and diverse" vegan subdivision, but let's face it- undercooked tofu and mushy greens only go so far. After a few weeks of that, well, even a bowl of croutons seems like a more appealing meal. Trust me, I've been there and done that.
The trick is to spend some time getting to know your dining hall and what resources you can utilize to make your own favorite meals. For example, my college has a gluten-free zone that also carries a lot of vegan products (waffles, vegan cream cheese, etc.) And, more importantly over everything, don't be afraid to ask your school for accomodations if you really feel like you're struggling to eat well on a daily basis. I know more than anybody that confrontation can be really awkward (I literally cried from embarrassment asking the dining hall staff to make a pizza without cheese.) Thankfully, if you're patient and overall friendly about it, you'll receive assistance in return. For instance, the pizza fiasco ended with the staff very kindly making me my own vegan pizza that night vegan cream cheese, which surprisingly wasn't too bad. Because guess what? It's their job to make sure you're getting what you pay for.
Anyhow, I'm going to reveal to you some of my favorite meals to make on campus, ranging from breakfast to dinner, and even some dessert hacks you can make in your dorm if it comes equipped with a stove.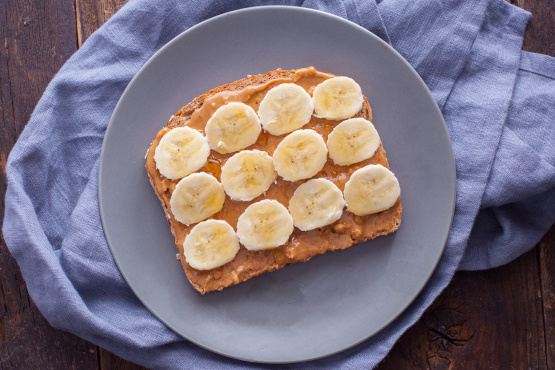 Breakfast: Most mornings, I don't have much time for a sit-down breakfast in my dining hall. I ALWAYS make a point of grabbing a coffee, even if I have to do without sugar or creamer. If you can afford it, I would strongly suggest buying a small Keurig or coffee maker to keep in your room, along with your favorite dairy-less creamer if you have a small fridge. That way, you can always have coffee on hand, just the way you prefer it!
My favorite simple go-to breakfast is two slices of whole-wheat toast with peanut butter and bananas. It touches everything on my vegan meal checklist: high in protein, filling, and most importantly, delicious. It's also highly customizable. You want to switch it up and add strawberries instead? Go for it. Feeling like sprinkling on some chia seeds? The possibilities are endless.
Really, the key to a flavorful vegan breakfast is fresh fruit. Oatmeal, though usually vegan, is a pretty blah breakfast on its own. I always add in a generous amount of raspberries and strawberries when I have oatmeal, along with totally outrageous amounts of brown sugar.
For some campus dining services (such as Chartwells), you can find the daily menus posted online your school's website. I check our school's menu at least four times a week to see what the vegan options are, and what I should plan ahead for. Some menus are even designated with symbols to show you which food items are safe for vegans, which can make your eating experience waaaay easier to plan for. The day I found out our tator tots were vegan was a huge game changer in my breakfast routine on campus.
Lunch: As a vegan, it is my responsibility to ensure that I am constantly getting enough protein throughout the day. Bottled fruit smoothies and protein bars (especially Clif bars) make for a great filling snack when I don't have time for a sit-down lunch. If you do have time to spare, however, wraps and sandwiches are going to be your new best friend.
Because my campus is relatively close to a supermarket, I heavily take advantage of buying my own food staples. For example, if you are unsatisfied with your dining hall meatless protein options, consider paying a visit to a local grocery store. Even just a once-a-week stop can give you enough time to stock up on vegan protein options, like meatless turkey and ham. Lightlife is my absolutely favorite brand for these substitutes, and I've thankfully had luck finding their products at several different grocery chains. From there, you can customize your own wraps and sandwiches just as anybody else would in the dining hall. Sure, it's a little annoying that we have to go out on an extra limb to eat the same food quality as everyone else, but it's the burden we've basically chosen to take.
Dinner: I'm a food slut for two specific dishes: stir fry and burritos. Luckily, both of which are incredibly easy to veganize! Rice is a great staple for any vegan diet, and is indisputably something you can find in any basic dining hall. Take a flour tortilla, some lettuce, a scoop of rice and beans, and boom, you've got yourself the perfect dinner. Stir fry is another great way to get in some veggies if your school offers it, and if not, it could be something to advocate for.
Desserts: My dining hall struggles enough to make regular vegan options steadily available, forget about dessert. However, fear not- all it takes is a communal oven and a couple basic kitchen staples to make your own desserts yourself. In my closet-turned-pantry, I constantly have cooking oil, bottles of unsweetened applesauce, and cake mixes stocked. And really, that's all you need to make a fluffy vegan cake or brownie batch on a whim. As long as the mix you are using is free of milk traces, you can substitute eggs for the applesauce and still make a fantastic cake. So good, in fact, you might just have to eat it out of the pan…
Thank you so much for reading this far, if you've made it. I look forward to hearing your own favorite vegan meals to cook on campus!