Despite what you may have heard in the past, it isn't difficult to maintain a vegan diet. Even for myself, a full-time college student in the Boston area, eating vegan is something I have adapted to and taken on quite easily. Admittedly, I was a little fearful that maintaining my diet would become difficult once I got to campus. And surely, there are plenty of tips and tricks to learn when you're trying to eat vegan on a college campus. If you're interested in exploring that, I'll include the link to that article here: https://diplomatsdigest.wordpress.com/2018/10/29/vegan-college-dining-hall-hacks/
Anyhow, I'm so excited to share a week in my life as a nineteen year-old busy student. Please let me know if you try any of these meals; I'd love to hear your thoughts!
---
Day One: On the mornings when I have some time to spare, and (hopefully) an accessible kitchen, I like to treat myself to a savory, mouth-watering breakfast sandwich. This particular sandwich is just as delicious and simple to make as a conventional "sausage egg and cheese"- we're just subbing out all three of those things with vegan alternatives. For the "eggs," I cut slices of extra firm tofu, coat it with turmeric and pepper, and fry it as you would for any egg. The "sausage" I use is from the brand Lightlife, and "cheese" is a cheddar-style slice by Daiya. Combined together, they make for an incredibly tasty and filling breakfast. I recommend serving it up with tator tots or crispy crowns.
---
Day Two: Although I'm not the biggest fan of spinach, I don't mind it at all in the form of this tofu scramble breakfast burrito. These microwavable burritos by Amy's Kitchen come in a variety of delicious vegan and gluten-free flavors, and are super quick to whip up if you're short on time. They also pack 11g of protein per serving, which is crucial to keep you energized and sustained throughout the day. Did I mention that Amy's also makes a variety of other comfort-food frozen dinners and snacks? Bring on the mac and cheese.
---
Day Three: If I have an early class, or if I simply don't wake up feeling hungry, I coax my stomach awake with a warm bowl of oatmeal. I feel like oatmeal is extremely underrated- have you guys ever tried dousing it with brown sugar and raspberries? The results are a truly sweet and delicious breakfast, packed with fiber and antioxidants. It's not hard to make a bowl of oatmeal for breakfast feel like a nice, warm, dessert. 
---
Day Four: If you have a little extra time to spare, this delicious smoothie bowl is yet another one of my sweet-tooth favorites. Smoothie bowls are extremely customizable, but I frequently enjoy using açai as my base and then packing on peanut butter and bananas. Cacao nibs, also known as "nature's chocolate chips," make for yet another delicious addition to a smoothie bowl. Not only do these bowls taste delicious, but they also photograph amazingly! Your friends and family will be impressed by your seemingly incredible talent for dressing foods.
---
Day Five: For all of my vegan + gluten free babes out there, these are the waffles for you. Van's Foods is one of my favorite breakfast staples, and their waffles taste no different than your favorite Eggo's growing up. Not only are they quick and easy to make, but they also have 75% less fat than the leading frozen waffle (cough, cough.) That being said, I'm sure Eleven and the rest of the Stranger Things cast would approve of this tasty breakfast treat.
---
Day Six: As I'm sure you've noticed by now, I'm a big fan of peanut butter and bananas. In fact, I'd go as far to say it's one of my favorite food combos, right behind chocolate and peanut butter. That being said, I couldn't leave out peanut butter banana toast, could I? It's been one of my favorite snacks since high school, and is easy to make in both your personal kitchen and your college dining hall. If you really want to amp things up, I recommend frying the bread in vegetable oil. It makes for a greasy and satisfying late-night snack!
---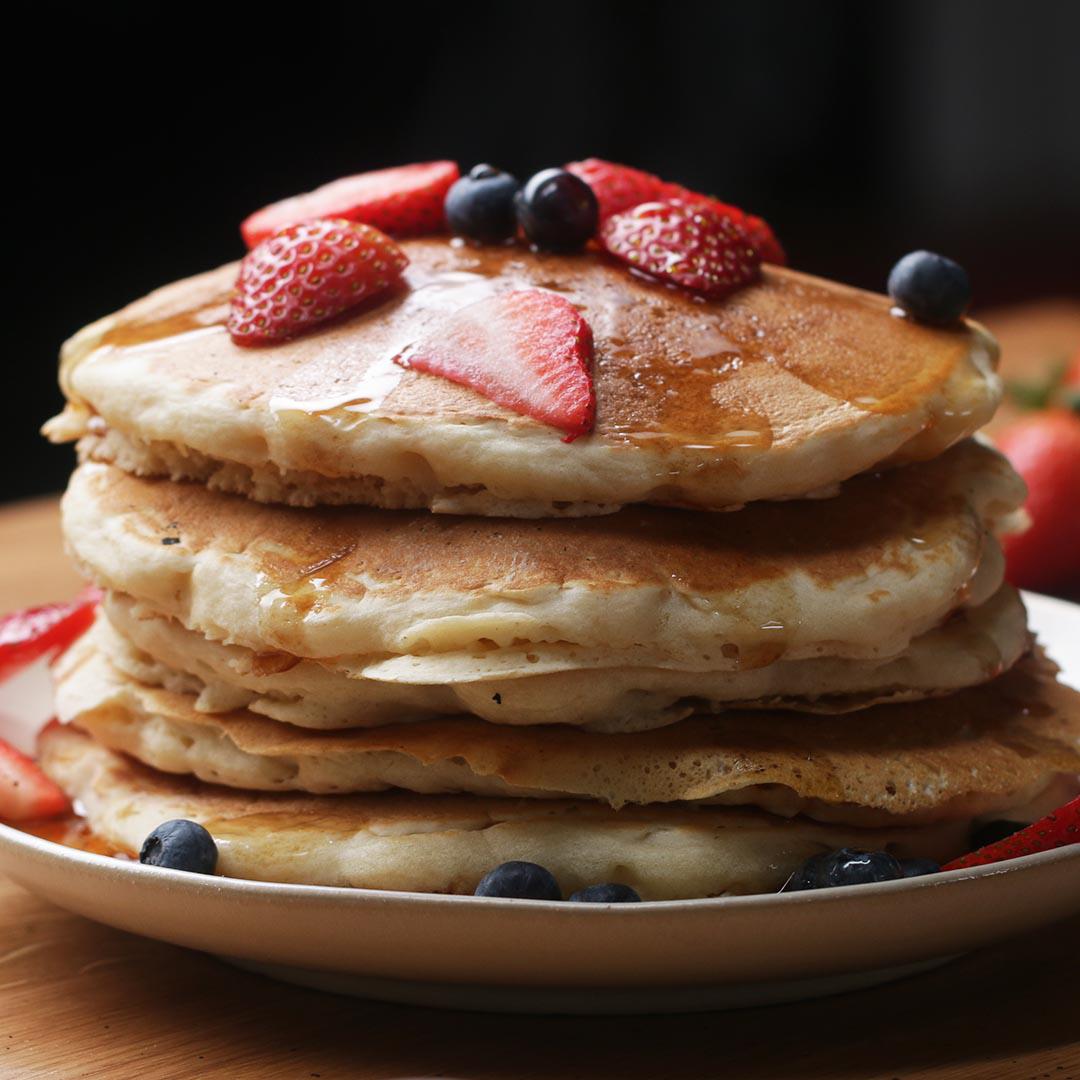 Day Seven: If you really feel like stepping up your breakfast game and indulging yourself, give these vegan pancakes by Tasty a whirl. They are made using kitchen staples you probably already have in your pantry, and they're extremely customizable as well. I don't have time to make them often, but when I do, I always make sure Duke is treated to a tiny pup-cake as well!
---
Pancake recipe: https://tasty.co/recipe/the-fluffiest-vegan-pancakes
Tasty kid's pancake recipe: https://tasty.co/recipe/kid-friendly-vegan-pancakes
Picture Credits: Amy's Kitchen, Van's Foods, Well Plated by Erin, and Tasty
Coming up next: Holiday Gift Guide 2018