It's a little known fact that INFJs tend to be excellent gift givers. This certainly rings true for me- at least, I hope it does! One of my favorite things about the holiday season is the joy that comes with planning gifts for the people I love. From the card, to the packaging, to the item itself, I never get tired of the process. Here is my official 2018 holiday gift guide to every archetype in your family/friend group.
Side note: I have intentionally left the archetypes genderless. Who says the avid makeup lover in your family can't be your best guy friend?
Another side note: I apologize for these GINORMOUS links at the bottom of the page. I can't figure out how to just copy and paste the website destination 🙂
---
For the person in your life who can't seem to get organized: a fancy-shmancy framed magnetic calendar. This is one of the pricer options I've included on the list, but I promise you it's worth the investment. The hanging hardware for this calendar is already attached, so all you have to do is mount it on the wall! It also includes four round magnets, so that special person in your life can prioritize hanging up important documents and invitations. Unless you know somebody who avidly loves buying a new paper calendar every year, I can't imagine not loving this gift.
---
For the makeup lover: a spinning makeup stand from Bed, Bath, and Beyond. As a cosmetic fanatic myself who owns a spinning makeup stand, I can heartily confirm this is a fantastic way to organize your products. You'd be surprised how much counter space you can clear off by investing in something other than your bureau drawers to store all your makeup. The only thing that would make this product better would be if it came in more colors than white, but it's hard to go wrong with a neutral.
---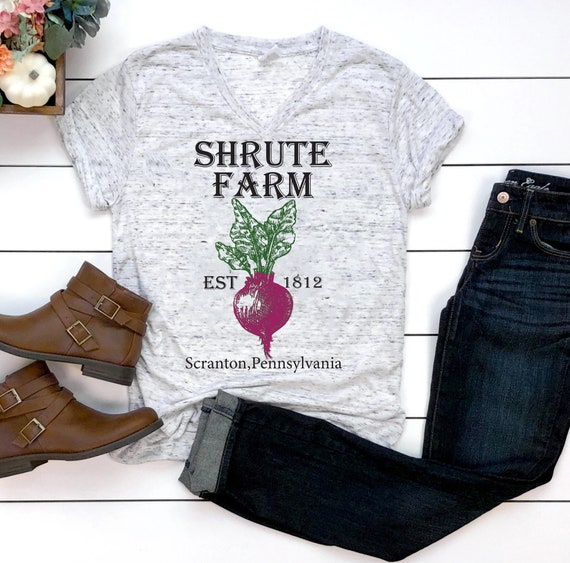 For The Office fanatic: Bears, beets, Battlestar Galactica. How can you go wrong with a super cute and cozy Schrute Farms tee? I'm so close to buying one for myself. Like many other avocado-toast-loving millennials, The Office has been one of my favorite shows for as long as I can remember. This particular material is my favorite kind of cotton: it's soft, stretchy, and doesn't cling uncomfortably. And, because you're ordering from Etsy, you can take pride in knowing that you're supporting a small, indie company. Go you!
---
For the hard-to-shop-for friend: a gorgeous faux-leather laptop messenger bag by Tocode. This person in my life happens to be my brother. He has a fairly well-paying job, so he can buy himself water he wants. He also doesn't really need very much; Josh is happy with a video game and a cup of tea. If you have a Josh in your life, consider getting him/her this super snazzy messenger bag. It's perfect for holding your laptop, your notebooks, or, if you're my brother, a few bags of tea.
---
For the dog-lover in your life: an adorable, teeny-tiny box sign broadcasting your love for your dog breed of choice. If your family is anything like mine, it's impossible not to love a gift dedicated to the family dog. The sign is smaller than I had anticipated, but it makes sense in relation to the cheap price. Consider this as a stocking stuffer or add-on for a parent, friend, or in a secret santa. And don't worry, it comes in a variety of different breeds!
---
For that younger relative you barely know but feel obligated to shop for: these adorable animal slippers that also double as floor dusters. I can't be the only person who has one of these. I guess it also falls under the "secret santa" category- a gift that's simple, reasonably priced, and delivered in a compact size. What better gift than a pair of super cute slippers with a face on them? Even if your recipient doesn't intend on cleaning with them, I guarantee these charming foot sliders will put a smile on their face.
---
For the person in your life who loves vintage goodies: A set of three "dairy barn" lidded containers. I bought them for myself over the summer as a dorm decoration, and they're absolutely beautiful. They feel extremely high-quality, and are much bigger than I imagined they would be. They are perfect for storing snacks, stationery, hair accessories, K-cups, teas, or whatever other little goodies you have laying around. They are also fabulous for storing fresh flowers, and add brightness to any living space.
---
For your favorite cook: This grill smoker gift set from Uncommon Goods. This set includes cherry, hickory, and apple wood chips, and are guaranteed to add a smoky flavor for all your favorite grilled dishes. The set has a five-star rating, so you know what you're purchasing is worth the price. The kit also includes instructions for how to use the chips, a smoker box, sea salt, and a grilling thermometer. Consider it a gift for yourself, on top of being a gift for the recipient. 
---
For the friend who loves to write: One Page at a Time: A Daily Creative Companion by Adam J. Kurtz. As someone who has purchased this for myself, I can confirm that this is a fantastic gift for anybody who loves writing, journaling, and reflecting on the wonders of life. The journal includes 365 creative prompts that include list-making, drawing, and even a few pencil-and-paper games to play with yourself. And, because it a 365-day record, you are giving a gift that lasts your recipient an entire year!
---
For the book lover: Ghostly Tales: Spine-Chilling Stories of the Victorian Age is one of my favorite books I've ever purchased. Although I love books, I do have a bad habit of putting down a book halfway and forgetting about it for months. The great thing about this book is that it is filled with a multitude of short stories, so you don't have to focus on investing yourself in one gigantic story and eventually getting bored. The book includes stories from some of my personal favorite writers, including Sir Arthur Conan Doyle and Charles Dickens. The book is also beautifully decorated with chilling illustrations. 10/10 from me, folks.
---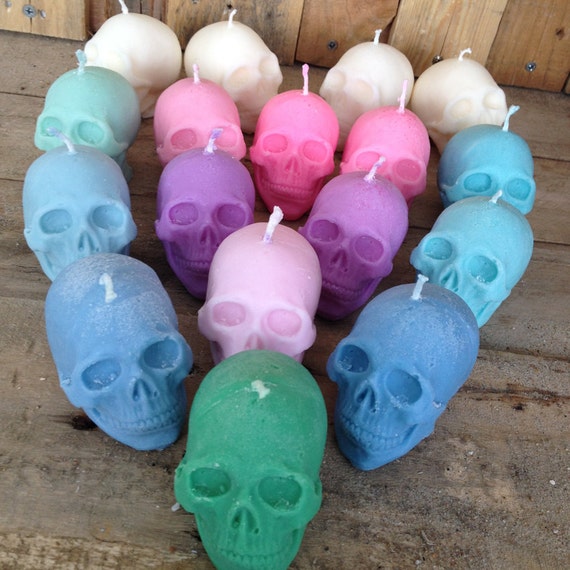 For the spooooky friend: A scented skull candle by StormySeasUK. A five-star company with over 900 reviews, this Etsy store lets you customize both the color and scent of your candle. The candles are made of natural eco-soy wax and come in adorable packaging, but most importantly, they are a unique gift that will delight the horror (or anatomy) fanatic in your life. Do note that these skulls ship from the UK, so shipping costs might differ depending on which country you order from.
---
And finally, for your goofy dog: A Toy Story Peas-in-a-Pod plush set from Amazon. I bought this as a gift for my dog last Christmas, and to this day, the peas are his absolute favorite toys. It's the perfect combination of a ball to play fetch with and cute, cuddly friend for your pup to snuggle up with. There's truly nothing cuter than watching a dog trot around the house with a pea in their mouth, I promise you. The peas are also excellent quality, so unless your dog has a vicious tendency to tear everything apart, this is not a toy that will fall apart within days.
---
Some additional small, inexpensive gift ideas: homemade candles/soap, baked goods, coffee mugs, fun socks, pin buttons, room spray, flowers, or tickets to a movie, show, event, or musical.
---
Links
Calendar: https://www.amazon.com/gp/product/B01I5THKVE/ref=oh_aui_detailpage_o01_s00?ie=UTF8&psc=1
Makeup organizer: https://www.bedbathandbeyond.com/store/product/lori-greiner-reg-spinning-cosmetic-organizer-in-white/1042790594?skuId=42790594&&mrkgcl=609&mrkgadid=3253336336&rkg_id=0&enginename=google&mcid=PS_googlepla_nonbrand_bath_local&product_id=42790594&adtype=pla&product_channel=local&adpos=1o3&creative=232742510344&device=c&matchtype=&network=g&gclid=CjwKCAiA0O7fBRASEiwAYI9QAj9LFcUj8zxh8_CfQLKdkBqU28_fDPb3muGlbsoRoT6QWXbeHdw0HRoCXZwQAvD_BwE&gclsrc=aw.ds
The Office T shirt: https://www.etsy.com/listing/643811482/schrute-farm-shirtthe-officethe-office?utm_source=google&utm_medium=cpc&utm_campaign=Search_US_DSA_Shopping_Clothing_C&utm_ag=DSA_Clothing%2B-%2BUnisex%2BAdult%2BClothing%2B-%2BTops%2Band%2BTees&utm_custom1=cf7f3481-43b4-4af0-b207-11872dcc1c20&utm_content=go_355573813_23612584453_302801795991_aud-459688891675:dsa-169916737933_c_&gclid=CjwKCAiA0O7fBRASEiwAYI9QAlz_c64YOE1ZqFUNmANT_4kboQF4DcU2zxw58hu8Fq0ZWhyHtgKg0RoCwmYQAvD_BwE
Messenger Bag: https://www.amazon.com/gp/product/B07BRHJ3CM/ref=ox_sc_act_title_5?smid=A2PB8EPY8P4G0H&psc=1
Dog box sign: https://www.amazon.com/gp/product/B00NCC6TGC/ref=oh_aui_detailpage_o00_s00?ie=UTF8&psc=1
Animal slippers: https://www.amazon.com/gp/product/B01LSZMV0C/ref=oh_aui_detailpage_o03_s00?ie=UTF8&psc=1
Dairy Buckets: https://www.amazon.com/gp/product/B01CE3VXH4/ref=oh_aui_detailpage_o06_s00?ie=UTF8&psc=1
Grill Set: https://www.uncommongoods.com/product/grill-smoker-gift-set
Journal: https://www.amazon.com/gp/product/0399167358/ref=oh_aui_detailpage_o07_s01?ie=UTF8&psc=1
Chilling Victorian Stories: https://www.amazon.com/gp/product/1452159270/ref=oh_aui_detailpage_o00_s00?ie=UTF8&psc=1
Skull Candle: https://www.etsy.com/listing/276425922/skull-candle-choose-your-colour-choose?gpla=1&gao=1&&utm_source=google&utm_medium=cpc&utm_campaign=shopping_us_halloween_All_Products&utm_custom1=cf7f3481-43b4-4af0-b207-11872dcc1c20&utm_content=go_1120951393_58402448852_256902102674_aud-321441275036:pla-293946777986_c__276425922&gclid=Cj0KCQiA8_PfBRC3ARIsAOzJ2urMH904L9rTVYSliNSGM9Q8NlPlsRT2f7g7fp1pYzdMaAVN5Nncx-8aAukyEALw_wcB
Plush Pea Pod: https://www.amazon.com/Disney-Story-Peas-Plush-Green/dp/B0041OCGZ8/ref=sr_1_1?ie=UTF8&qid=1543348649&sr=8-1&keywords=plush+green+peas