The New England transition from winter to spring is always an interesting experience. It was snowing last week, then it was sunny and fifty degrees, then it rained, and now…it's snowing again?
@globalwarming, what are you doing?
Anywho, with the changing of seasons comes a whole bunch of new fruits and veggies in season! Not only is it more environmentally friendly to eat in season, it's also considerably cheaper. Some of my absolute favorite produce comes from the month March, and I've included some of my favorite recipes at the bottom as well. Let's get into it!
---
Avocado seems to have a reputation of being overrated, which I can understand to a degree. Yeah, maybe avocado is extraneously smothered on every dish you can imagine, but that doesn't take away from the fact that it's so darned good. You've probably heard avocado referred to as a "super food", because its health benefits are extensive and large-scale. Avocado is a healthy fat, so there's no guilt in packing it onto your toast or sandwich. Avocados are a great source of vitamins C, K, E, and B-6, and have even been shown to improve skin health.
---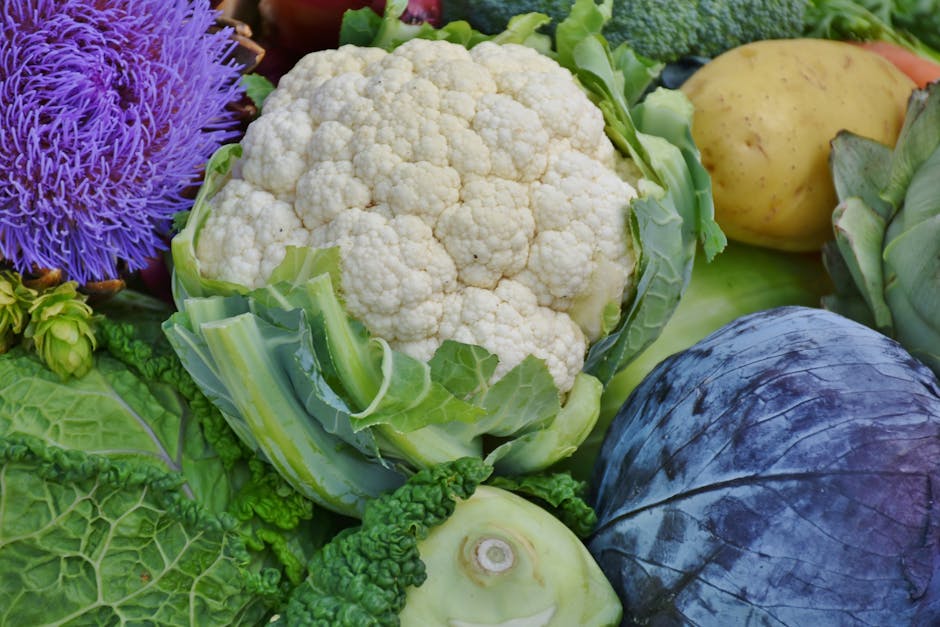 Another versatile plant readily fresh in March is cauliflower, or "albino broccoli", as I call it. The great thing about cauliflower is its ability to be easily flavored and transformed into a brand-new dish. Take cauliflower buffalo wings, for example. It may sound questionable, but they smell and taste absolutely delicious, and are perfect as a vegan party dish. Cauliflower also aids in weight loss, making it a guilt-free snack for those trying to eat healthier. 92% of cauliflower is made up of water, which means the calorie count is significantly low!
---
Spring greens like spinach, lettuce, and arugula are also extra fresh in the month of March. Leafy green plants don't just have to go into salads- you can incorporate these plants into just about anything. If you're trying to up your spinach intake but you hate the taste, try sneaking it into already flavorful dishes. Throw a handful of spinach into a breakfast smoothie, a tray of lasagna, or into a pesto sauce, and be amazed at how delicious your dishes come out (without an earthy flavor)! As a vegan, it's crucial to meet your daily nutritional needs of iron and calcium from plant sources, and spinach is a great way to fit those in.
---
On the topic of green vegetables, peas are also in season for the month of March! Green peas are one of my absolute favorite comfort foods, especially in the form of a veggie medley with some black pepper sprinkled on top. I always like to have a bag of frozen peas or mixed veggies stashed in my freezer, so I can use them on-hand as an easy side dish for dinner. Peas are also relatively high in protein, and one of the most filling vegetables you can include in your diet. Because they're also high in fiber, they can even assist in digestion (something I struggle with quite a bit, as a soy-eater). Green Pea Soup is an elegant dish, might I say, so I'll add that link to the bottom of the page.
---
There are quite a few other fruits and veggies readily fresh in March, but these are my top four favorites. Even if you're a picky eater, like me, I'm sure you'll find these recipes below just as delicious as I do! And, of course, feel free to comment some of your personal favorite dishes as well. Spring is just around the corner, so hang in there!
Sources: https://cookieandkate.com/2015/march-fruits-and-vegetables/ 
---
Recipes
Vegan Cauliflower Buffalo Wings: https://www.noracooks.com/vegan-cauliflower-buffalo-wings/
Vegan Lasagna (with lots of yummy spinach): https://www.noracooks.com/best-vegan-lasagna/
Green Pea Soup
http://www.greenkitchenstories.com/green-pea-soup/
Coming up next: Today's Crystal Diary: The Healing Power of Selenite