For as long as I can remember, Anne of Green Gables has always been one of my favorite novels. I don't even know where to begin in describing my love for this book; part of it is rooted in the fact that my mother used to read it to me, part of it is the lovable, creative, storyline, and part of it is…something else. Something deeper. I've always seen a lot of myself in Anne- she's sensitive and creative, she's quickly judged by those around her, yet still unapologetically herself. She's also a 19th century feminist icon, something I didn't realize myself until high school. For those reasons, Anne Shirley is today's #WomanCrushWednesday, and I'm so excited to discuss her evolution from book to screen.
In short, Anne of Green Gables follows the adolescent years of Anne Shirley, an imaginative redhead who is accidentally adopted by brother-and-sister Matthew and Marilla Cuthbert. Though they had intended on adopting a boy to use as a farm hand (the story takes place in the 1860s), Anne's promising charm convinces the Cuthberts to keep her and raise her. Anne of Green Gables chronicles Anne's childhood scrapes and adventures in Avonlea, and the subsequent seven books in the Anne series follow her adult/family life. The stories are so detailed and vivid, it's easy to forget Anne Shirley is a fictional character.
Since its publication in 1908, Anne of Green Gables has been made into oodles of plays, musicals, movie adaptations, and even a recent television show that premiered on Netflix. For this particular article, I'm going to be focusing primarily on the relationship between the novel and the Netflix show, as the latter is the newest and most accessible adaption.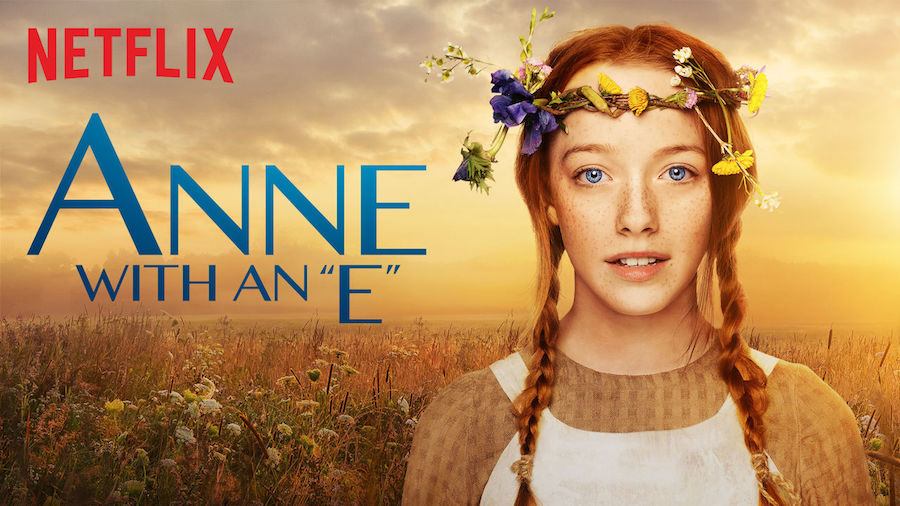 The biggest difference between the novel and the 2017 television adaption is the overall darker interpretation. While the novel does still touch upon Anne's tragic past and hardships in poverty, her emotional scars are more or less unwritten. In the Netflix show, which is called Anne with an E, we the viewers are shown graphic scenes of bullying and torture committed on Anne, and allusions to Anne developing PTSD. Anne with an E also takes the theme of feminism and enlarges it, which is something I found to be beautiful and empowering. Some critics argue that Anne with an E changes the plot too much, or "embellishes too much drama", but I actually love the direction that the show creators decided to go. The story still takes place in rural Canada in the 1860s, but additional psychological/sociological elements are included to make the story more sophisticated. LGBT+ themes are introduced as well, in both a believable and relevant way. There will be homophobes out there who criticize the show for incorporating homosexuality, but I personally think it was a brilliant move. People seem to forget that being gay isn't a new fad or revelation- it was certainly around in the 19th century, and long before that.
I won't spoil the plot of Anne with an E, because I really do recommend that all of you watch it, but I will discuss Anne's character development and personality from book to screen. Like I said, the book takes on a more innocent, plain approach to the psychology of Anne Shirley. Her character development is still there, of course, but it's more focused on her academic achievement and and womanly growth from a young girl to an independent adult. Her overall character and personality remains the same from book to television, but Anne with an E fabricates fictional situations to create more dramatic effect and detail. One of my particular favorite scenes in Anne with an E is in season 2, episode 8, in which Prissy Andrews prepares to marry the much older Teddy Phillips. If you've read the novel, you know that Mr. Phillips was the local Avonlea school teacher who rather inappropriately fell for his pupil, Prissy (back in those days, it was a lot less taboo than it would be today). While the love story of Prissy and Mr. Phillips is never really brought to a conclusion in the book, Anne with an E has other ideas.
While Prissy walks down the aisle, she panics at the realization that her childhood is now over, she'll never pursue a further education, and the rest of her life is doomed to be the fate of a secluded housewife. And so, in a rather dramatic and emotional manner, Prissy runs out of her own wedding and into the fields of virgin, untouched snow, with her circle of friends trailing behind her. It's a really beautiful celebration of feminism, freedom, and youthful pleasure, and I'm so happy that Anne with an E decided to include that particular plot point.
As described by the creator of the show, Moira Walley-Beckett, Anne Shirley is something of an "accidental feminist". Even if LM Montgomery (the author of Anne of Green Gables) didn't originally intend for Anne to blossom this way, I'm sure she'd be pleased with what Anne Shirley has become today. She represents the privations we often neglect to acknowledge in young women: identity, bullying, feminism, mental health, and gender parity. She is a voice for young women of all backgrounds, wrapped up in flowers and beauty, moonlight and grace. She is an inspiration to me, and more than deserving of the title Woman Crush Wednesday.  
Before I close this article, I wanted to share some photographs of a trip I took to Canada last summer. Being the Anne of Green Gables fanatic I am, I made sure to visit Prince Edward Island, where the story takes place and thus has a huge monopoly on the entire island. My family and I got to see the Anne of Green Gables musical (which was amazing), tour the official Green Gables house, visit the home of LM Montgomery, and even snap some pictures with cast reenactors. If you've seen my green copy of Anne of Green Gables appear on the blog before, that's the copy I purchased while abroad in Canada. It's one of my favorite treasures I've picked up so far, and I almost always have it floating in my school bag somewhere.
Anywho, that's all I've got today. I hope you've enjoyed reading this article, and if you haven't read the novel or checked out the Netflix show, do that asap! Per usual, be sure to let me know what your feelings are in the comments below. I love discussing books, and especially this particular novel.
Picture sources: https://www.anneofgreengables.com/
Netflix and CBC Renew 'Anne With An E' for Second Season in 2018
Coming up next: My favorite drugstore products