If you're tired of me doing these irrelevant tag posts, fear not! This is the last one I have on the books for a while (and trust me, I have articles planned out until June). My music taste is, admittedly, all over the place, but whose isn't? Imagine how boring and uncreative it would be to only listen to one specific genre of music.
This particular tag is from another WordPress article, Rattle the Stars. All credit goes to them! Let's begin.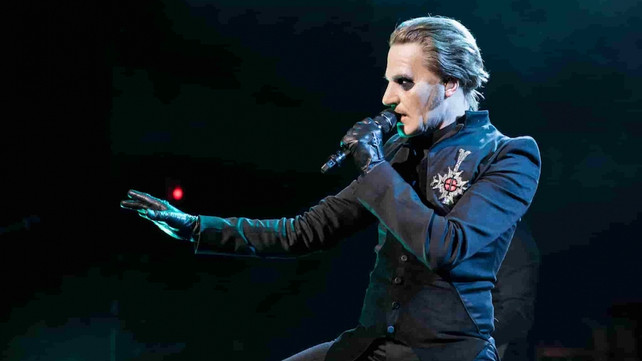 Name your top 3 favorite bands.
This is bound to surprise many, but I'm actually a relatively big fan of metal. I think it has something to do with the fact that when I was growing up, my brother was a drummer for a band that performed a lot of heavy rock/metal music. I essentially became conditioned to it, and because of that, I developed a taste for it. Right now, my three favorite bands are Opeth, Ghost, and In Flames.
What is the last song you listened to?
According to Spotify, the last song I listened to was "Sky Could Undress" by Balmorhea. Lately, I've been listening to "deep focus" playlists when I get ready in the morning, and this was the last song I listened to before I headed out the door.
What was the first concert you went to?
The first concert I went to was a Kodaline concert on Valentine's Day with my then-boyfriend in high school. It was very sweet, but admittedly, I never have been a concert person. I haven't gone to many concerts since.
If you could spend a day with your favorite singer who would it be?
I feel like it would be AMAZING to spend a day with Regina Spektor, because she's an extremely intelligent, introspective person. A lot of her songs mean a lot to me personally, and I'd love to have a chance to tell her how much I appreciate her music.
Are there any songs that you can't stand hearing?
I have this weird thing with The Red Hot Chili Peppers and The Black Eyed Peas. I don't really care for their music very much, and if I hear it come on, I'll probably say "I don't like this" aloud.
If you could have a soundtrack to your life what would it be?
Marina (previously Marina and the Diamonds) could undoubtedly write an amazing soundtrack to my life. I feel like she has had similar plights/life experiences to me, and she would have a beautiful way of putting those feelings/experiences into words.
Can you sing?
Actually, yes! I sang in an a capella group for about seven years.
Your favorite cheesy song?
I have a few "cheesy" songs I like, and by that, I mean songs that came out before 2010. "Kiss Me" by Sixpence None The Richer is a bop, "Hey There Delilah" slaps, and "Love Story" by Taylor Swift will always hold a special place in my heart.
What songs do you listen to when you are feeling down?
When I'm feeling down, my go-to song is "Summer in the City" by Regina Spektor. It's slow-paced and melancholy, but somehow manages to lift my spirits.
First L.P./CD/MP3 you bought?
My grandmother bought me an MP3 player when I was in elementary school, so probably around 2006-2007. I don't remember the exact model name, but by today's standards, it would be ancient technology.
Do you like musicals? If so, which is your favorite?
I don't LOVE musicals, like some of my friends do, but I generally like them! Rocky Horror Picture Show is probably my all-time favorite, and I'd never turn down the chance to see it live again (I've seen it live with a shadow cast twice).
Favorite musical instrument?
I can't play any musical instruments, but I think the sound of a piano is one of the most beautiful things humanity has discovered.
If you could see anyone in concert who would it be?
It would be AMAZING to see Ghost live. They have a theatrical, interactive persona when they perform live (from what I've heard), and I would LOVE to be a part of that.
If you wrote a song what would it be called?
A phrase I've been thinking about a lot lately is "growing pains", but instead of regarding it literally, I apply it to my life in a more philosophical sense. I think we call go through a series of emotional "growing pains"- the growing pains of love, loss, and ultimately, the emotional transition to adulthood. So if I were to write a song about my life experiences, I would definitely call it "Growing Pains."
That's pretty much all I have for today! I hope this article was somewhat interesting for you to read, and as always, feel free to drop your own thoughts and opinions in the comments below. I'm always looking for new musical artists to pursue, so if you have any recommendations for me, let me know!
Picture links: https://de.wikipedia.org/wiki/Tobias_Forge
https://www.dreadcentral.com/fearsome-facts/277282/fearsome-facts-the-rocky-horror-picture-show-participation-guide-part-i/
https://www.bowerypresents.com/shows/detail/355035-a-very-special-evening-with-regina-spektor-solo
Coming up next: #WCW: Jean Wehner is My Hero