I have a hard time justifying why anybody would need a subscription box, including me, but that doesn't change the fact that they're fun in theory. I myself have never even had a subscription box to anything, so I'm basing all if these assumptions on what I've seen and heard online. For my birthday one year, I did get a one-time Stitch Fix box, but I never signed up for an actual subscription. I guess that makes me slightly more informed about this subscription box than the other ones, so I'll happily give you all my thoughts about the experience.
---
If you're someone who struggles with finding a direction in fashion (especially if you hate shopping for clothes), Stitch Fix just may be your new favorite thing. The first step of Stitch Fix is filling out a style profile, which includes your preferences, sizes, and price range you'd like to stick in. You are assigned a personal stylist, who will then put together a box of clothes/accessories and mail it directly to you! You can try on everything and see how you like it, and if you decide you don't want something, you just mail it back. In short, you only have to pay for the things you want to keep. That being said, there is a $20 styling fee if you decide not to keep anything, but the good news is shipping and returns are free! Like I said, I've only received one box from Stitch Fix, but I was pleasantly surprised by how spot-on the stylist was, and how easy the entire process was.
---
The rest of these subscriptions are things I've never tried before, but love the concept of in theory. The Curiosity Box is on the complete other side of the spectrum, because it contains a variety of collectibles, math puzzles, science toys. You might recognize the creator of The Curiosity Box- Michael Stevens, a.k.a the man behind VSauce and Mind Field. All of the contents of the box come with directions from Michael, and even better, a portion of all the proceeds are donated to fund Alzheimer's research. Each box also comes with a book, usually covering subjects that Michael himself would talk about in a YouTube video. Can we send humans to Mars? Why is glass transparent? Michael actually even states on the website that he uses some of these books for his research, so as far as I'm concerned, they're all fantastic reads.
---
Lunarly is one of the first subscription boxes I ever familiarized myself with, and honestly, I would totally sign up for it if I had the disposable income. It combines everything I love- self care, tea, crystals, candles, and plants. Let me repeat that last part: they send you a FREAKING PLANT. Each monthly box is centered around the New Moon, which influences what the contents of that month's box will be. Last month's box, for example, was titled the "Sap Moon" and represents the unfolding of the world as winter begins to melt away. I really love the hand-picked quality of the box, and how much emphasis is placed on self-care and loving the gifts of Mother Nature. I myself am really interested in moon cycles and learning more about them, and Lunarly seems like a great place to start. I'll let you guys know if I ever give this box a try in the future, because I really do like the mission of the company.
---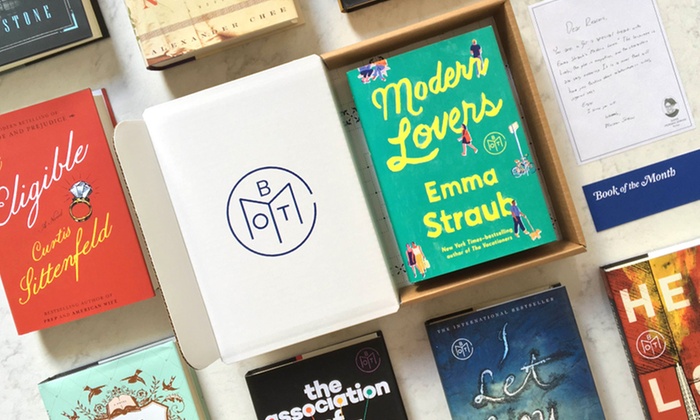 You all know by now that I am a slut for a good book. And if you didn't know that, hi, my name is Sarah Desroche, and I am a slut for a good book. I love to read multiple books at a time, including audio books, and I also host my own monthly book club. Unless I have a set schedule of reading, I can quickly fall behind, so I love the idea of committing to monthly books that I have to finish in a given amount of time. Book of the Month will search through hundreds of books to hand-pick five that they think you'll love, and then you choose the one you want to read. I'm interested in reading a variety of different genres, so I love the idea that I can choose from different books and decide the one I want to dedicate myself too. I haven't been able to find pricing for Book of the Month, but I believe it is run on a system of credits. If you don't want to read a book for a particular month, you can just roll over your credits!
---
Those are the top four subscription boxes that have caught my eye in 2019. I'd love to know if you've tried any of these in the past, and what your thoughts and feelings are! What are your personal favorite subscription boxes? Let me know in the comments.
Links: (Not affiliate)
Stitch Fix: https://www.stitchfix.com/
The Curiosity Box: https://www.curiositybox.com/
Lunarly: https://lunarly.com
Book of the Month: https://www.bookofthemonth.com/
All photos are taken directly from the websites!
Coming up next: Cruelty-Free Beauty Products That You Can Find on Amazon