I've tried a lot of makeup brands in my life, and even though I'm certainly not a pro, I consider myself well-versed in distinguishing quality, price, and overall performance of a product. I also don't like to shit all over brands because of a bad product- just because something didn't work for me, doesn't mean it won't work for somebody else with a different technique, right?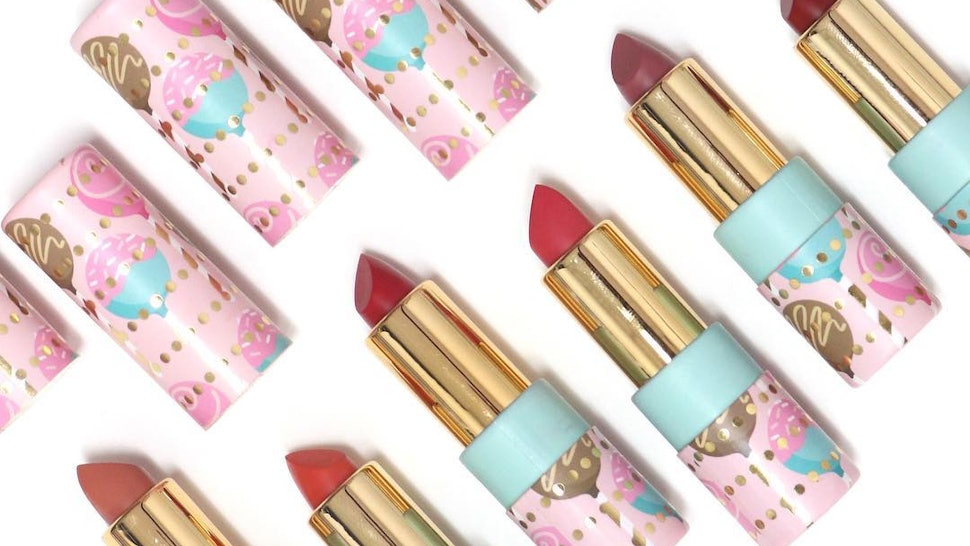 To be honest, the things I've heard about Beauty Bakerie aren't 100% on the positive side. They released a foundation at some point in the last couple of years, and the reviews were not flattering. Let me first of all start off and say the packaging for their products is ADORABLE. Seriously, it's indisputable how cute the packaging is. Nobody had complaints about that. The thing people really had a problem with was the formula, for being too drying and unflattering on the skin. It really is a shame the foundation was a dud, because like I said, PACKAGING. 
I was actually pleasantly surprised when I saw that Ulta carries some Beauty Bakerie products online. Sure, I'm not going to be spending $28 on an iffy foundation, but they have to have some good products, right? I was immediately drawn to the Mini Cake Pop Lippies, because the shades looked gorgeous and the packaging (per usual) was really cute. The mini lipsticks are $14 each, and I ordered 3 of them in the shades Bastani Ice, Picnic on Peachtree, and Cinnamon Churro. They seemed like a fair price at the time, but now that I actually have them in my hands, I'm actually dumbfounded by how small they are. Seriously, it feels like I am holding a free sample in my hand. The tube is also made out of a slightly flimsy-feeling cardboard, which surprised me, considering this was a kind of pricey MINI lipstick.
I know it probably sounds like I'm dragging this brand, but I really don't want it to come across that way. 2 of the 3 lipsticks didn't work for me, but one of them looked absolutely gorgeous and went on super buttery. The shade I liked is called Cinnamon Churro, and it's a pinky-brown nude shade with a matte formula. Interestingly, even though it is labeled as a "matte" formula, it felt a lot creamier and shinier than the other two shades (which were, in turn, labeled as creme formula). I did notice that the lipstick was bleeding at the edges a bit, but it was nothing a little concealer couldn't fix. It was also very easy to take off at the end of the day, being a creamy formula and not a drying liquid lipstick.
Moving onto the shades I didn't like. Bastani Ice is a light brown nude, and I can't tell if it's the formula that looks terrible on me, or the color itself (or maybe both?). Either way, it feels very waxy, patchy, and just really unflattering on my lips. I wish I liked the formula of Picnic on Peachtree more, because I LOVE orange lipstick shades and genuinely do love this color. It's just this formula that goes on way too thick and chunky.
To recap, the things I liked are the packaging (of course), and the Cinnamon Churro "matte" lipstick. I was less happy with Bastani Ice and Picnic on Peachtree, but maybe I can find another use for them, such as cheek blusher. I also feel that they are rather pricey, considering what you actually get, and would have at least expected them to be in plastic tubes instead of a flimsy cardboard I could crush with my hands. I'm going to give Cinnamon Churro an 8/10, the other two shades a 5/10, and a solid 7/10 for the brand as a whole.
I doubt Beauty Bakerie is reading this, but if you are, I'm sorry for sh*tting all over your lipsticks. Despite this moderately disappointing review, I will continue to keep a lookout for more products from Beauty Bakerie and potentially give some other products a try in the future. Thank you for tuning into my beauty review this week, and I'm so excited to tell you about even more products in the future!
---
Note: One of my fellow bloggers who I adore, misswongx, also published various detailed articles about Beauty Bakerie (including the lipsticks!). I'll link her main article here so you can check it out: https://www.misswongx.com/ive-spent-over-300-on-beauty-bakerie-see-whats-my-favorite-and-what-i-returned/
---
Coming up next: Keeping a Dream Journal and Practicing Morning Meditation: Start Your Day Off Right!