As some of you have probably noticed, I have a constantly evolving sense of style. Admittedly, I sometimes get annoyed with myself for not being able to "settle" on a style, but at the same time, it's fun to be something of a fashion chameleon. In the past three years, I've done everything from pinup and über girly-girl, to hardcore goth/rockabilly. As of right now, my summer style consists mainly of "edgy" colorful pieces, and some traditionally masucline touches. Per usual, this is most likely to change and evolve over time, so I'm just going to roll with it. Lately, however, I have been reflecting nostalgically on my 40s-50s phase. Maybe that will make a comeback in the future!  
It's important that I gave you that backstory, because all of the women I'm going to mention are extremely diverse in their fashion styles. However, at one point in time, each and every one of them inspired by fashion/makeup choices.
---
Drac Makens | Artist/Content Creator | @drac_makens
In the emergence of my mid teens, Drac Makens was one of the earliest content creators to have an influence on my personal style. To this day, I actually still reference her bright, beautiful makeup looks in my day-to-day life, and continue to be fascinated by her. I've always admired people who are creative, avant-garde, and unapologetically themselves, and Bianca is a perfect example of that. I also really enjoy that she gives "goth" an unusually vibrant twist- typically as a nod to her Mexican heritage. I also admire Bianca for having a humble, soft-spoken attitude, and for very clearly being a kind-hearted person. If you're interested in checking out more of her makeup looks, she has an Instagram account and a YouTube channel, though she rarely posts on the latter. She also has an instagram for her art creations, called @drac_makens_creations. 
---
Jessica Kellgren-Fozard | Content Creator | @jessicaoutofthecloset
I unapologetically attribute my love for rockabilly, vintage fashion to this incredible lady, Jessica Kellgren-Fozard. Not only are her clothes posh, adorable, and well put together- she's also a woman of charisma, bravery, and strength. Also, she's sublimely funny- pop over to her YouTube page for more of that! Julia is deaf, blind in one eye, and suffers from a handful of other disabilities that affect her memory, nerves, and connective tissue, along with many other things. Despite her disabilities, Jessica remains a shining light of positivity and optimism in the YouTube community, and looks fabulous while she's doing it. She also makes quite a few videos discussing LGBT+ issues, vintage fashion & hair, and general world issue topics. And, of course, her hair tutorials were very helpful for me during my own vintage beauty phase. I've written about Jessica before here, so if you're interested in reading that, I'll link it below. 
---
Anything for Selenas | Makeup Artist | @anythingforselenaaas
I discovered Selena on Instagram about two years ago, and immediately fell in love with her colorful, clown-inspired, sharp makeup looks and style. She reminds me quite a lot of Drac Makens in regards to her makeup style, so it's no wonder I'd fall in love with her work as well. I love that Selena pushes the traditional standards of beauty, and always stays true to her aesthetic (especially when applying makeup on clients). Some of my makeup looks I've featured on my own Instagram were directly inspired by her, especially the iconic pointy eyebrow ones. I have so much respect for Selena and her creative process, so I was extremely happy when she started a YouTube channel this week for makeup tutorials. She can make even the most complex makeup looks appear simple- something I find helpful as a gal who loves to experiment with makeup. 
---
Zheani | Musician | @askulloffoxes
Zheani is one of the more recent public figures to influence my style and makeup choices. With the exception of Jessica, you've probably noticed that thus far I enjoy slightly gothic, outlandish aesthetics- especially for my makeup. Zheani is a singer-songwriter, most notable for her incredible diss track against the South African music duo, Die Antwoord. I immediately felt inspired by her dark, baby doll-esque appearance, with a varying touches of punk and fairy mixed throughout her feed. Her music has also been a source of inspiration for me- she dubs it "fairy trap", it's nothing short of awesome. Zheani is actually the one who inspired me to get my first set of long, bright acrylic nails a couple months ago, and I've been wearing them regularly ever since. 
---
Julia Zelg | Content Creator/Musician | @juliazelg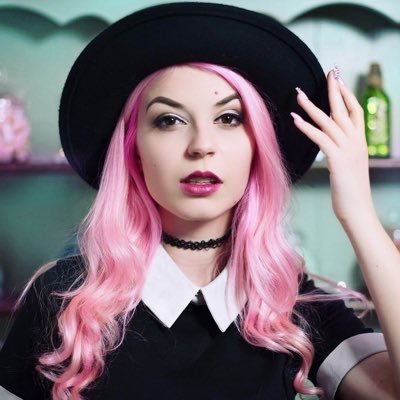 Similarly with Jessica Kellgren-Fozard, I've mentioned Julia a lot on my blog in previous articles. Before I even discovered who she was, we already had similar aesthetics in both appearance and music. She, like me, is a fan of colorful hair, ridiculous platform shoes, and elaborate makeup looks. She has only continued to inspire me as the years go on, and some of the outfits I have purchased myself have been directly promoted by her. I showed her a picture of a pair of platform boots I bought from DollsKill at the NYC meet and greet, and she actually told she has the same exact shoes in another color! Along with k.d. Lang, who I'll get to, I would say Julia Zelg is the current most accurate representation of my personal style.
---
k.d. Lang | Musician | @kdlang
As I continue to grow and explore my identity as a lesbian, I was immediately attracted to k.d. Lang when I came across her music. There's something about her butch, carefree, classy style that I find really attractive, and lately, I've been trying to emulate it in myself. I especially love her use of vertical stripes, oversized men's jackets, and short, wispy hair. I've always loved the way short hair looks on me, and having it cut and styled in a traditionally butch way is an extremely liberating way for me to express myself. If you're interested in checking out k.d.'s music (her earlier work is my favorite), I'll leave the link to her YouTube channel below.
---
MY LINKS
Jessica Kellgren Fozard article – https://diplomatsdigest.wordpress.com/2019/03/06/wcw-jessica-kellgren-fozard-is-my-spirit-animal/
Julia Zelg article – https://diplomatsdigest.wordpress.com/2019/01/10/a-voice-for-the-times-my-favorite-lesbian-icon-julia-zelg/
---
YOUTUBE LINKS
Drac Makens – https://www.youtube.com/channel/UCBZQ-mAKI_oeSoxaCqar11g
Jessica Kellgren Fozard – https://www.youtube.com/user/MissJessicaKH
Anything for Selenas – https://www.youtube.com/user/seliruizz
Zheani – https://www.youtube.com/channel/UC-iSVYcy1rDg7xGqIwttyCw
Julia Zelg – https://www.youtube.com/channel/UCUIBkpuyXKU4B6dFv32LpRg
k.d. Lang – https://www.youtube.com/user/kdlang
---
PICTURE CREDITS
https://www.theargus.co.uk/news/16354760.meet-jessica-kellgren-fozard-brightons-rising-youtube-star-who-is-representing-the-deaf-disabled-and-lgbtq-communities/
Anything for Selenaaas: pinterest
Zheani: pinterest
Julia Zelg: twitter
https://www.last.fm/music/k.d.+lang/+images/e7f837bf136c4b05ab7b3d3b7d9c4aef
Coming up next: My Favorite Vegetarian/Vegan Cookbooks