With my last skincare routine being quite a while ago, I felt it was time for an update on what I'm using on my face. I naturally have very oily skin, and I wear a lot of heavy makeup, so it's extremely important to me that I keep my pores as clean as possible. In order to keep my skin in its current, healthy condition, I religiously do this regimen every single day. I do not skip any steps!
Disclaimer: Obviously, what works for me may not work for you, but my products are generally very natural, organic, and ethically sourced (so they're gentle on the skin). Everything on this list is also 100% cruelty free. Please note that although I have researched these products to the very best of my ability, I may have missed something or been misinformed in my checkboxes. If you are especially concerned about the ingredients/content (especially those of you who require gluten-free or hypoallergenic products), please reach out to the brand directly to be extra safe! Also if something does not have a check mark, it may just simply be that I couldn't find the answer, or it's just not 100% applicable. Even if the brand is 80% organic, I still won't check it off unless it's completely organic. Again, reach out to the brand if you have a serious health concern. I hope you enjoy!
---
Superfood Cleanser | Youth to the People | Cleanser | $36.00
The first thing I do in the morning is wash my face with a non-foaming cleanser (anything that claims to "foam" or "exfoliate" can be really rough on sensitive skin)! I bought this cleanser while I was on a two-day trip in New York City, at what must have been the biggest Sephora in the state. Seriously, the moment I walked in, I knew this was where I wanted to spend my shopping money! I needed a new facial cleanser anyway, because the one I was using before was owned by a company that tested on animals. I normally would not choose something this expensive- if you look at my other skincare products, you'll see that everything is in the $5-$15 range. However, I wanted to treat myself to something nice on vacation, and also, I really fell in love with the brand's message and aesthetic. First of all, of course I want a gay-themed face wash. Secondly, this brand hits all the boxes for ethical consumption. It's 100% vegan, it uses natural ingredients, and all of the vegetables/herbs sourced are GMO-free. I'm not sure I can justify buying this again in the future (due to the price), but I am really glad I bought it and enjoy having it in my skincare regime. Like I said, it's non-foaming and feels very clean, without feeling like I've stripped my skin. If you have the opportunity to spend a few more dollars, this cleanser is fabulous (and G A Y). 
⌧ Vegan
⌧ Gluten Free
⌧ Organic
⌧ Non-GMO
☐ Hypoallergenic
---
Mask of Magnaminty | Lush | Exfoliator | $14.95
Twice a week or so, I'll go in with the Mask of Magnaminty by Lush. I believe it is marketed as a mask, but I actually prefer to use it as an exfoliator after cleansing. The ground aduki beans in the mask are round, dull, and quite large, so I don't have to worry about tiny shell pieces making micro tears in my face (cough, Kylie). I'm also obsessed with the SMELL of this mask. As you may have guessed, peppermint oil plays a large part in the formula, and the scent is absolutely invigorating. I always feel wide-awake after I take this mask off my face, and my skin smells amazing. If you want to use this as an actual mask, it's probably fine to use it more than twice a week, but I wouldn't recommend using it as an exfoliator more than that. Exfoliating your skin too much can actually be more harmful than helpful, especially for us folks with sensitive skin!
⌧ Vegetarian
⌧ Gluten Free
☐ Organic
☐ Non-GMO
☐ Hypoallergenic
---
Rose Petal Witch Hazel | Thayers | Toner | $10.95
This is hands down one of my favorite products I've ever purchased for my skin. It's impossible not to like Thayers- they are inexpensive, high-quality, vegan, and of course, cruelty-free. And, this toner smells amazing (it comes in a few other scents as well!). As someone with extremely reactive skin, even the simplest cleanser can make me break out in red splotches, That's where toner comes in- and the name is pretty self explanatory. After cleansing and exfoliating, I pour a little bit of this toner into my hands and spread it all over my face. After doing this step, my skin feels much more even and supple. And trust me, a little goes a long way. I've been using the same bottle of Thayers for about four months now, and it's still ¾ full.
⌧ Vegan
⌧ Gluten Free
⌧ Organic
⌧ Non-GMO
☐ Hypoallergenic
---
Peach Sake Emulsion | Skinfood | Moisturizer | $15.00
After applying toner to my face, I go in with this moisturizer and spread it all over my face, hands, and neck. Skinfood is a hidden gem brand I recently discovered and fell in love with immediately. If you're a fan of Korean skincare, I highly suggest giving Skinfood a try. Most of their products are available at Ulta for affordable prices, including this delectable Peach Sake Emulsion (a.k.a moisturizer). I have to admit, I originally bought this product just because I love the packaging, but what really sold me was how nourishing this product felt on my skin. Skinfood prides itself on incorporating natural food elements into its products, hence the company name, and I think it's a great skincare philosophy. Because some of their products incorporate eggs, they are not 100% vegan, but they are vegetarian. It is noteworthy to add that many of these products are fragranced, so Skinfood is not hypoallergenic. It personally does not irritate my skin, but if you are sensitive to scented products, I would do a patch-test on your hand before applying to your face. 
⌧ Vegetarian
⌧ Gluten Free
☐ Organic
☐ Non-GMO
☐ Hypoallergenic
---
Sensitive Sunscreen Lotion | Blue Lizard | Sunscreen | $13.49
The last step in my morning routine is to go in with sunscreen (something I admittedly just added recently). I've always heard it said that you should use sunscreen every day, even if you're not an outdoorsy person, and that you should start as early as possible in life. After scouring the internet for a cruelty-free, face-sensitive formula, I came across this one by Blue Lizard. I love that the product doesn't go on white or chalky- it blends right into my skin, just like a moisturizer would! I suppose if you have extra oily skin, it may be a good idea to skip a traditional moisturizer and just go in with sunscreen, especially if you're prone to breakouts. I'm happily surprised to say that this sunscreen hasn't caused any breakouts yet, so I'm very excited to keep using it!
⌧ Vegetarian
⌧ Gluten Free
☐ Organic
☐ Non-GMO
☐ Hypoallergenic
---
7 to 3 | Lush | Makeup Remover | $3.95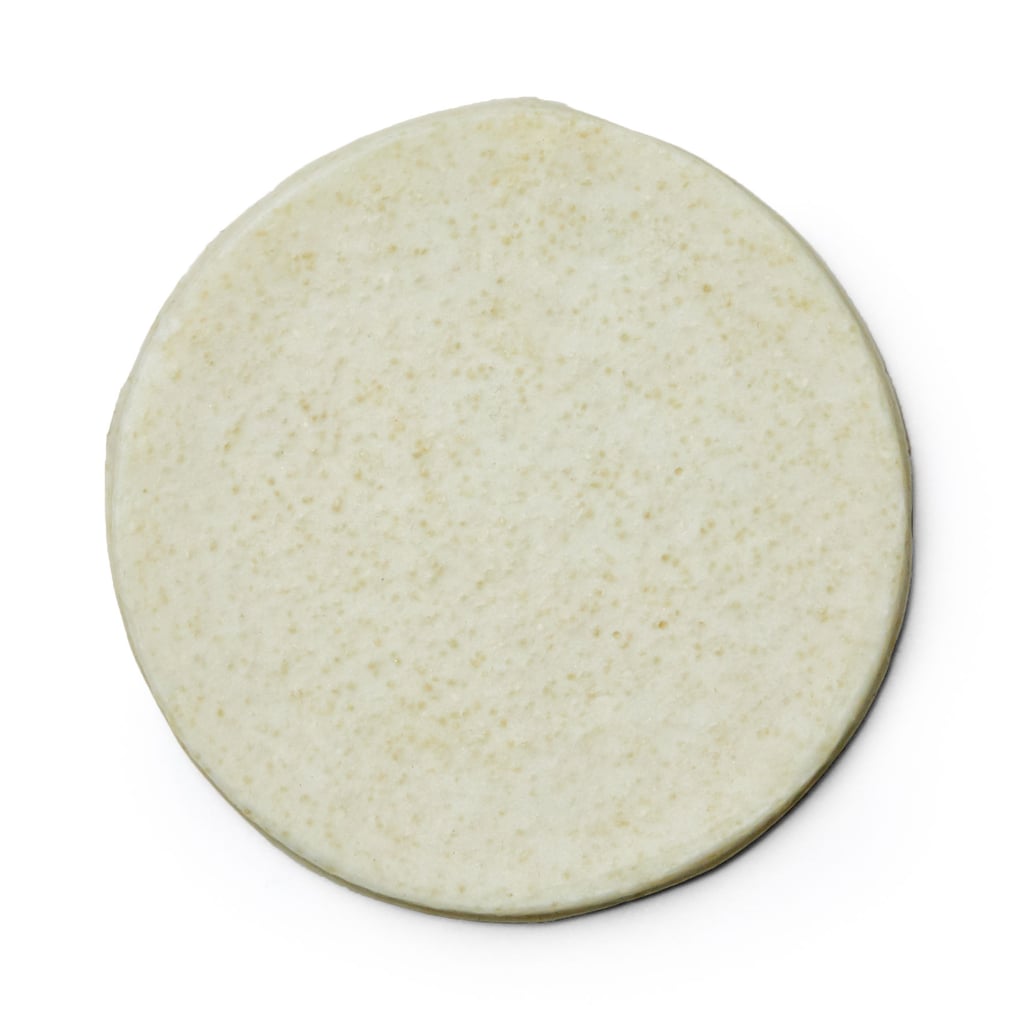 Moving onto my nighttime routine, the first thing I do is take off my makeup (if I happened to be wearing any). I have to admit, when I first came across this product at Lush last month, I was skeptical about the sales lady's enthusiasm. Not that I didn't believe this product would take off some of my makeup, I just didn't think it would take off all of it. But wow, was I wrong. This little cleansing pad not only took off my heavy face makeup, but also my waterproof mascara, black eyeliner, and liquid lipstick in just a few swipes. I also don't have to scrub it all over my face as I would with an alcohol-based makeup remover, so my eyes feel refreshed after using this pad, rather than irritated. Also, because it's a multi-use pad, it's an extremely low waste alternative to traditional makeup pads. The Lush website recommends throwing this out after a week of use, but for me personally, I was able to stretch out the use for more than three weeks. Once you do throw it away, it degrades and goes back into the earth.
⌧ Vegan
⌧ Gluten Free
☐ Organic
⌧ Non-GMO
☐ Hypoallergenic
---
Coconut Water Eye Lift Cream | Andalou Naturals | Eye Cream | $15.99
It's surprisingly hard to find a cruelty-free eye cream that doesn't contain questionable ingredients, like dimethicone (check out the E.l.f eye cream to see what I'm talking about- dimethicone is the third ingredient and dozens of reviews were complaining of allergic reactions). If you personally are trying to find an eye cream that meets similar standards, you're bound to love this one. Not only is it comparatively cheaper than many other eye creams, but it's also completely natural, vegan, and organic. I've only been using it for about two weeks or so, and my eyes already feel brighter and smoother. Even though I don't have any wrinkles, I feel like it's never too soon to use eye cream. This is the last step in my nighttime routine, after I cleanse, tone, and moisturize. After this, it's off to bed (or more realistically, off to read novels and watch netflix until 3am). 
⌧ Vegan
⌧ Gluten Free
⌧ Organic
⌧ Non-GMO
☐ Hypoallergenic
---
PRODUCT LINKS (not affiliate)
Superfood cleanser – https://www.youthtothepeople.com/products/superfood-cleanser-pride-edition
Mask of Magnaminty –https://www.lushusa.com/face/masks/mask-of-magnaminty/02129.html
Witch hazel – https://www.thayers.com/shop-thayers/premium-witch-hazel/facial-toners/rose-petal-facial-toner/
Peach sake emulsion – https://www.ulta.com/peach-sake-emulsion?productId=xlsImpprod14431247
Sunscreen – https://www.bluelizard.net/products/sunscreen-sensitive-5oz
7 to 3 – https://www.lushusa.com/face/cleansers/7-to-3/09058.html
Eye cream – https://thrivemarket.com/p/andalou-naturals-coconut-water-eye-lift-cream
---
Coming up next: The Best Hidden Gem YouTube Channels