It's no secret that I'm absolutely a makeup hoarder. I love collecting makeup, and I even struggle to part with makeup that I've had for years (and almost certainly has expired). This includes the 15+ eyeshadow palettes I currently have sitting at my desk.
Today, I'm going to guide you through all of my eyeshadow palettes, how much I use them, and how much I'd recommend them to others. You might even get a few gift idea inspirations for your makeup-loving friends!
I'll start with my oldest palettes, and work my way up to the newest additions:
---
Naked3 | Urban Decay | $54
In every makeup fanatic's drawer, there's bound to be at least one Naked palette! Naked3 is one of the first real palettes I bought myself, if not the first. I must have been fourteen or so when I bought this palette, because I remember looking up YouTube tutorials of how to do makeup for my 8th grade graduation. I've still kept the palette to this day, because Urban Decay makes pretty solid makeup and I think it's a great collection of basics to have. I don't wear it as often as I used to, but I reach for it every once in a while.
---
Sweet Peach | Too Faced | $49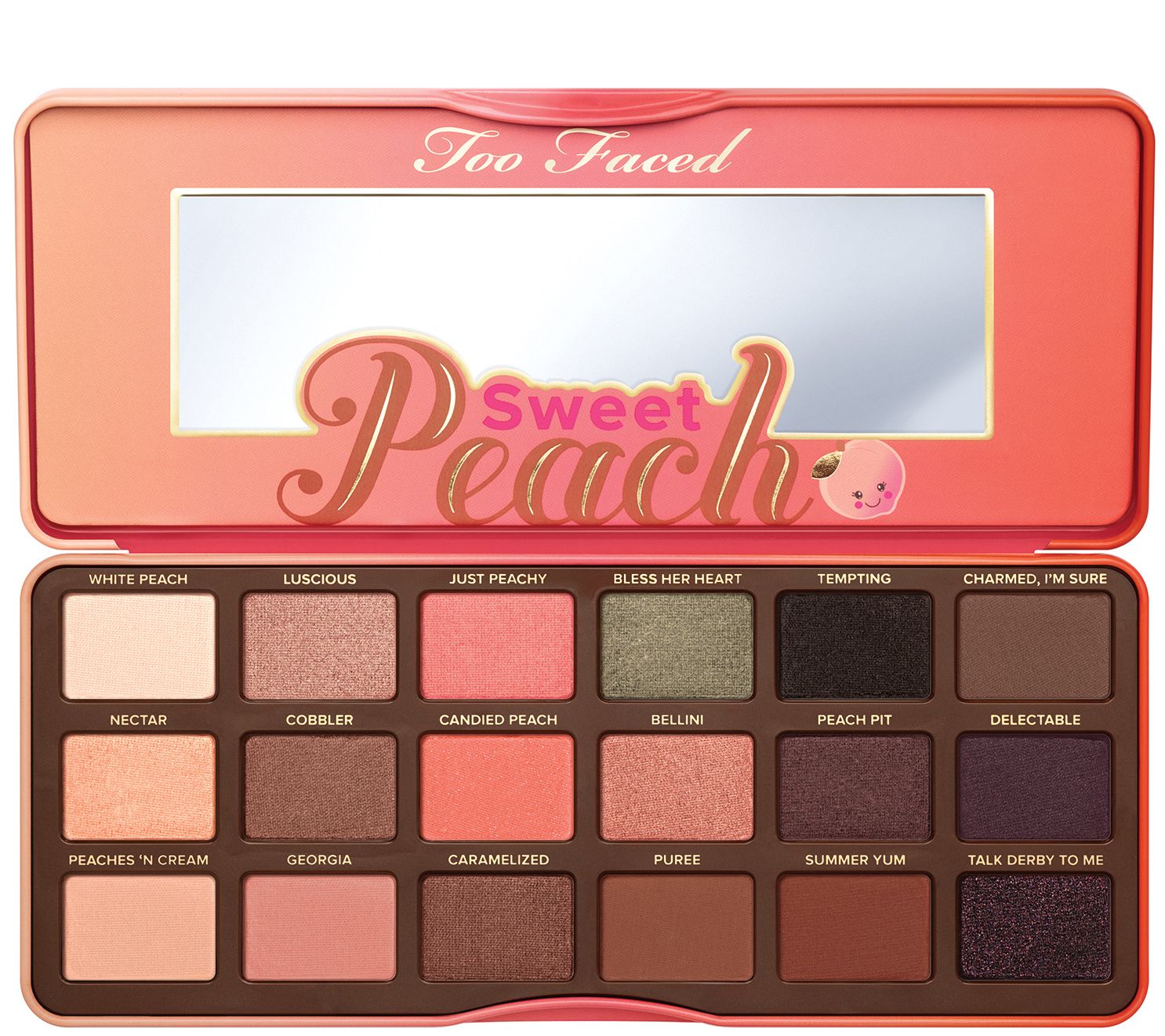 The Sweet Peach palette is another early-on makeup staple I added to my collection, and I actually still use it quite frequently. The pigmentation of many of the shadows is amazing, especially the warmer-toned colors. It doesn't blend as well as some of my other palettes, but that may simply be because I've had the palette for 6+ years. I'm not sure when eyeshadow expires, but it's probably some time before then. I actually just used this palette recently, because I absolutely love the shade "Candied Peach" and I haven't found another palette with a similar color! I would totally recommend this palette to a beginner in makeup who loves sweet, pink things. It's a great staple in my collection.
---
Carli Bybel | BH Cosmetics | $25
The Carli Bybel palette by BH Cosmetics is one of my most-used items, and I've already hit pan on many of the shades. The highlighters in this palette are also amazing and absolutely blinding, especially the gorgeous pink-toned one. Unfortunately, I'm pretty sure this palette was a limited collection and isn't being sold anymore, but it was another great collection of neutrals and shimmers. It reminds me a lot of the Naked3 palette in regards to the color scheme and performance, and it's a fraction of the price.
---
Emerald City | Cargo Cosmetics | $9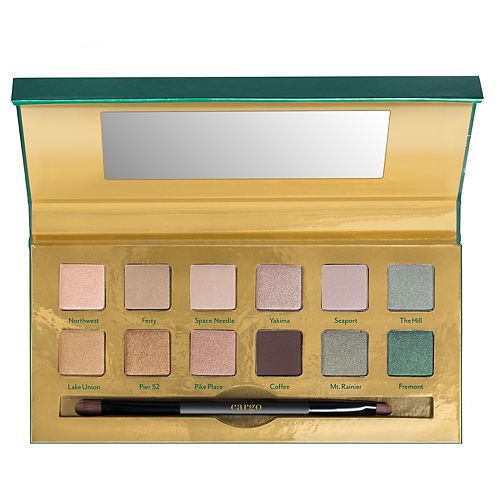 This is actually a palette I bought at Marshalls, so you may assume that the quality isn't as great as some of the more expensive options. Surprisingly, this is actually a really impressive palette! I have no trouble blending out the colors, and the color payoff of most of the shades is extremely high quality. This palette is great for creating holiday-themed looks, especially with the vibrant greens and golds. If you come across this palette at Marshalls or TJ Maxx, don't pass it up!
---
Pirates of the Caribbean: Dead Men Tell No Tales | Lorac | $30
Funnily enough, this palette went on sale at Marshalls for significantly cheaper after I dropped all my money at Ulta. I've never actually watched Pirates of the Caribbean, but the colors in this palette were too gorgeous for me to resist. I'm especially in love with the royal blue shade, Starry Night. As you'll hear me say from here on out, Lorac makes some of the creamiest, brightest eyeshadows I've ever used in my life. Although this palette doesn't really have a color scheme, there are a number of creative, colorful looks you can make, especially for the holiday season.
---
Mega Pro 4 | Lorac | $25
I'm pretty sure I bought the Mega Pro 4 palette almost immediately after the Pirates of the Caribbean one, due to instantly falling in love with Lorac. This palette has a gorgeous collection of neutrals, peaches, and warm-toned browns, making it ideal for all skin tones. If you're not someone who likes to go all out with crazy makeup looks, this is probably the perfect palette for you. Similarly to the Sweet Peach palette by Too Faced, this product would be a great gift for a beginner in the world of makeup. And the pink packaging is so adorable!
---
The Jaclyn Hill Palette | Morphe | $38
It's no secret that the Jaclyn Hill palette is one of my all-time favorite purchases in general- not just makeup. It's an absolutely gorgeous product, and a staple in so many makeup artists's collections. I love the versatility in colors, and the performance of these shades is super pigmented and long-lasting. My personal favorite shades are the warm-toned reds: Hunts, Roxanne, and Hillster. Additionally, Creamsicle is the perfect mustard yellow shade for blending out the crease. I probably reach for this palette 2-3 times per week, and I'll definitely be reaching for it this Christmas!
---
Luna | Bad Habit | $7-10
If any of you remember the online makeup store Hush, that's where I bought these Bad Habit palettes. I actually wrote a review of these palettes in the past, and since then, I'm still very happy with the products. Obviously, the price of these palettes is insanely cheap, and Luna and Retro Love are dupes for Norvina and Subculture, respectively. Even though Luna is inexpensive, I'm still very impressed with the performance and the color payoff. I also love the gorgeous shades, even if they are a ripoff of the Norvina palette. Unfortunately, now that Hush is out of business, I'm not sure where you can buy this palette. If you really wanted it, I'm sure you could find it secondhand on eBay.
---
Retro Love | Bad Habit | $7-10
Like I said, Retro Love is another super-cheap palette by Bad Habit. This palette is designed to dupe the ABH Subculture palette, and for only $7, I am completely blown away by this product. I honestly cannot find any discrepancies between Bad Habit and a high-end brand, because the shadows are genuinely so pigmented and smooth. They do feel a bit dusty, but that may just be because I've had the palette for more than two years now. Again, I know Bad Habit didn't invent this color scheme, but this dark, winter-themed palette is perfect for a sultry holiday makeup look.
---
The Zulu | Juvia's Place | $20
I first learned about Juvia's Place through watching NikkieTutorials, who raved about the amazing quality of these eyeshadows. As someone who loves bright colors and creating avant-garde looks, I knew I'd have to try out the brand for myself. Nikkie wasn't lying when she said these are the best eyeshadows she's ever tried! I was absolutely blown away when I swatched these colors on my arm. Especially for only $20, and such large pan sizes, these eyeshadows are an amazing deal. If I'm correct, some of the shades are actually pressed pigments, which explains why the color payoff is so powerful. This can cause staining on the eyelids, but don't worry, it's nothing to be concerned about. This palette is perfect for creating looks in every season, but I definitely use it the most in the summertime.
---
Jaclyn Hill: Dark Magic (The Vault) | Morphe | $15
I'm sure a lot of you are familiar with the Jaclyn Hill Vault Collection, and probably not for the best reasons. Although the Jaclyn Hill palette itself is amazing quality, her vault shadows aren't quite as impressive. Don't get me wrong, I love the shades and I think you could put together an amazing holiday-themed look with this color scheme, but the patchiness is a huge issue. I don't reach for this palette as much as the others, but I do really like the medium brown shade "Shhh", and the rich black shade "Temptress" has great pigmentation.
---
Brights Ultimate Palette | NYX | $13
I bought this palette around the time I was getting into super bright, creative, avant-garde makeup looks. It's not the most pigmented palette I've ever used in my life, but for $13, it's also not the worst thing in the world. As long as you have the patience to spend 5-10 extra minutes packing on the color, I think you'll be happy with the results you see from this palette.
---
The Tribe | Juvia's Place | $20
"The Tribe" is a beautiful collection of oranges and greens, and just like "The Zulu", the pigmentation is absolutely breathtaking. I also love this huge pan sizes! I think the green looks great on all eye colors, especially if you're trying to go for something Christmas-themed. Additionally, there's enough neutral shades in this palette to create something much more lowkey and ideal for year-round makeup looks. If you're trying to decide on your first Juvia's Place purchase, I would definitely say go with this palette first!
---
Blue Blood | Jeffree Star Cosmetics | $54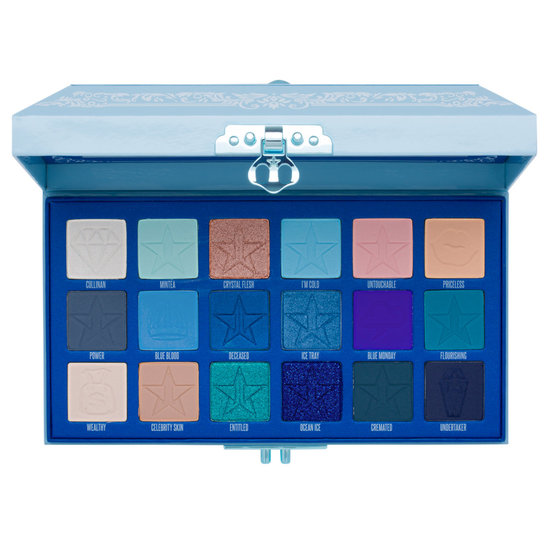 Blue Blood was the first JSC purchase I have ever made in my life, and although I partly bought it for the novelty purposes, I also use it pretty frequently. I mean, look at that packaging. She's stunning. In true Jeffree Star fashion, these eyeshadow shades feel extremely luxurious and packed with color payoff. You can create so many colorful, icy-themed looks with these blues and peaches, and every shade performs like a dream. The price tag on this palette is a little up there, but I personally think this palette was a great investment.
---
Jawbreaker | Jeffree Star Cosmetics | $58
Just a few months after I purchased Blue Blood, I knew I had to add Jawbreaker to my collection as well. I'm in love with the reds and oranges in this palette, especially that metallic bright orange shade, "Orange Juice." Just like Juvia's Place, JSC has pretty large pan sizes, so you really feel like you're getting a decent amount of product for the cost. These shadows stay on all day, and will continue to look amazing and fresh even hours after you've applied.
---
Desert Oasis | BH Cosmetics | $24
This palette is another one of my all-time favorite staples, and I always make sure I have it with me at school. I love this palette because it's multi-purposeful; you can use it for shadow, contour, highlight, bronzer, and blush! Considering the price point is already quite low, it's even more impressive that you can use the palette for so many different things. I especially love the metallic shimmers- those blues and greens are absolutely stunning and so full of pigment. This is a perfect collection of neutrals with a hint of color, and I think it would truly complement all skin tones.
---
Aurora Lights | BH Cosmetics | $21
I bought this palette because I love adding a metallic pop to all of my inner corner eye looks, and this collection has the perfect color for every look! These baked metallics can be worn on their own, or added as a topcoat over any other shadow. I especially love the shades "Sparkling" and "Ombré", because they're super bright and they really make my tiny eyes look bigger. If you also have hooded eyes, try popping a light golden or white shade into the inner corner of your eyelid, and gradually blending out into darker colors in your outer corner.
---
Strawberry Sprinkles & Raspberry Icing | Revolution Beauty | $7
Aren't these little donut eyeshadow palettes absolutely adorable? For only seven dollars per palette, they'll make a great gift or stocking stuffer for the makeup lover in your family. I chose these two warmer-toned palettes because I love wearing pinks and oranges on my eyes to warm up my face. Just like other Revolution palettes, these shadows are extremely creamy and perform beautifully on the eyes. You can even pick these palettes up at some Ulta locations, so don't pass them up if you see them!