It's officially the holiday season, which means it's time for me to revisit all of my favorite Christmas movies. In my twenty years of living, I have six all-time favorites, which I've numbered from best to…not as best? I genuinely love them all, so I don't have a "worst" on this list. But come on…of course Elf has to be number one. That movie is an absolute joy.
Without further adieu, these are my favorite films to enjoy around the holidays!
---
Elf (2003)
As I just said, Elf is my absolute favorite Christmas movie, and I look forward to watching it all year long. I've noticed that a lot of people say they're sick of this movie, or they don't find it funny anymore, but it really never gets old for me and my mom. I just love the sweet humor of the movie, the unique characters, and of course, Will Ferrell's acting is such a treat. I haven't had a chance to watch it yet this year, so maybe that's what I'll do tonight! I can't imagine that anyone hasn't seen this movie in 2019, but if you haven't, you are seriously missing out. This is a beautiful, laugh-out-loud comedy, and it really gets me into that fuzzy Christmas mood.
---
The Santa Clause (1994)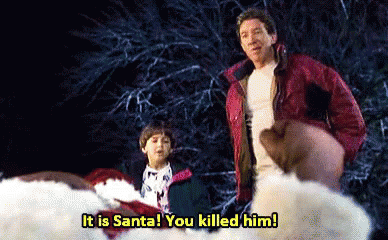 Following as a close second, The Santa Clause is another movie I grew up watching and have loved my whole life. This movie is one of my favorites because it's absolutely hilarious, above all, but it also holds a nostalgic place in my heart. When I watch this movie, I get those same happy feelings that I felt around Christmas time as a little girl. On a side note, do you ever think about how movies where Santa does exist doesn't make any sense? In other words, in Christmas movies where Santa exists, but the parents don't believe in him, where do they think the gifts come from? This question has plagued me for years. I will be bringing it up again when I talk about The Polar Express. 
---
How The Grinch Stole Christmas (2000)
God, I adore Jim Carrey. Speaking of this movie, I actually just watched it last night with my mom (yes, she is my #1 partner for watching movies with). Although I will admit the Whos' weird puffy faces kind of freak me out, it's still a sweet, endearing film to watch around the holidays. Additionally, the older I get, the funnier I find The Grinch and the more I relate to his humor. While watching this movie last night, I couldn't stop thinking about how Jim Carrey as The Grinch reminds me of Jeffree Star's dry humor. I really hope this makes sense to somebody else out there, because once I realized the similarities, I couldn't stop thinking about it. I was honestly shocked when I read that this movie tanked when it came out, and that some critics described it as "dank", "weird", and "eerie." I genuinely think it's hilarious. The only thing I find scary, like I said, is the disfigured Whos appearances. 
---
National Lampoon's Christmas Vacation (1989)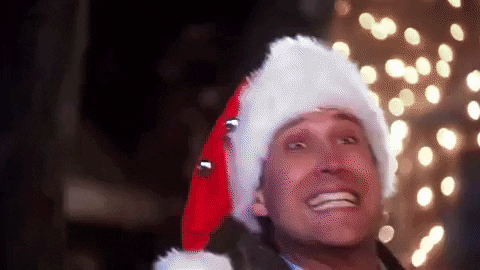 I actually just watched this movie for the first time last week, but it's already quickly becoming one of my favorites. I love the opening score, the quirky characters, and the charming acting delivered by Chevy Chase. The whole running gag with the lingerie sales lady was a little uncomfortable, but hey, that's the 80s for you. Christmas Vacation is basically a giant homage to the 80s, and I appreciate the movie for that reason. If you haven't seen it yet, it's absolutely a must-see! It actually reminds me a bit of Scrooged, which I'm going to be talking about next.
---
Scrooged (1988)
I watched Scrooged for the first time last year, so I haven't really grown up with it, but I loved it nonetheless. This movie is essentially an updated version of Charles Dickens' A Christmas Carol, hence the title. If you're a fan of cynical humor, satire, and of course, Bill Murray, you'll find a place in your heart for Scrooged. It's certainly not everybody's cup of tea, and I can see how a kid could probably find it scary, but I honestly enjoyed it quite a bit. I'm looking forward to watching it again this holiday season. 
---
The Polar Express (2004)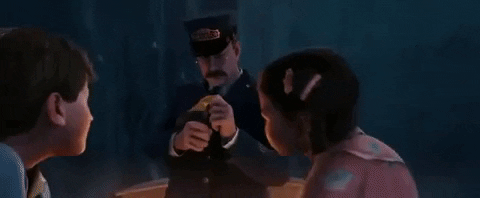 Last but not least, I also enjoy watching The Polar Express, though I actually haven't seen it in a couple of years. It's a sweet, thoughtful movie, and the only Christmas film on this list that isn't a comedy. What this movie lacks in laughs, it makes up for in catchy film scores and incredible animation, although I won't lie, the animation is a bit…Uncanny Valley-esque. Hey, that's 2004 for you. Anyway, I'm definitely going to watch this movie again, because I think it's lovely and perfect for the holidays. However, I'm still plagued by this whole parents vs. Santa thing. Seriously, WHERE do the parents think the gifts come from? A pretty substantial chunk of this movie is based around the idea that the parents don't believe in Santa, hence why they can't feel the magic. If that's the case, who do they think puts the gifts under the tree? This is one of life's greatest mysteries. 
---
Anyway, that's going to be it for today! I hope you liked this article and enjoyed my mini-rant. Comment your favorite Christmas movie down below! Do we share any favorites? Let me know 🙂