I'm a big fan of both crafts and the holiday season, so it's no surprise that I'm interested in doing some Christmas crafts this week! Especially since I'm going to be spending so much time with my close friends and family, crafts are a great way to bond and build creativity. These are some of the cutest crafts I found across Pinterest, google, and online magazines, so I hope they inspire you to get creative this holiday season as well! I'm also going to be including the original links below, in case you'd like more in-depth instructions for the crafts.
---
Mini Twig Christmas Tree Decorations
I was immediately drawn to this craft because of how chic and modern these decorations look. I also love that it utilizes things I already have around the house, such as yarn and twine. This is an extremely easy and low-cost craft; all you really need is yarn, a hot glue gun, and of course, twigs or small branches. Cut the twigs to your desired length, glue them together to form a tree shape, and after the glue dries, wrap the yarn around the twigs. Alternatively, you could use washi tape or ribbon to create this adorable pattern as well. 
---
Lighted Burlap Garland
I found this craft on another blog called "create craft love," and I absolutely fell in love with how adorable it is. Anything with fairy lights instantly draws me in, so of course I had to include it on this list. This craft is also very easy- all you need is fairy lights and burlap ribbon. Cut the burlap into 8-10 inch strips, and then get busy tying them onto the lights! This craft is a bit time-consuming, so make sure you have a show to watch or a podcast to listen to while you make the garland. However, once it's finished, it makes for a beautiful decoration and a practical gift. Definitely well worth the time!
---
Yarn Hat Ornaments
Looking at these adorable little hats, I'm already thinking ahead to how adorable they'll look on my future pet rats. Although they look intricate, they're actually quite easy to make in application. I recommend visiting the original link as well, so that you can have a more in-depth understanding of the steps. Once again, you'll need your yarn and scissors, and you'll also need tissue paper and paper rolls (toilet paper, paper towels, etc). You'll need to tie lots of tiny pieces of yarn around the toilet paper roll, so make sure you have the patience for that! Of course, the end result is absolutely adorable, and they also make for a great tree ornament. 
---
Macaroni Christmas Tree Ornament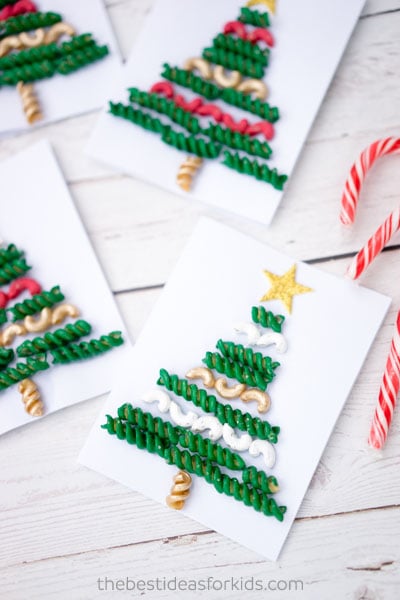 Crafting doesn't get much easier than this. All you need is dried pasta, a very strong glue, white cardstock, and acrylic paint to make this super-cute, colorful Christmas tree. If you don't want to paint all the individual pieces of pasta, you can actually put them in a bag with the paint and shake it as an effective way to cover them all quickly. After you paint the dried pasta and glue it onto cardstock, you can use it for a wide variety of purposes. You could attach a piece of twine and create a Christmas ornament, or mount it onto paper to make a homemade Christmas card. If you're a fan of pasta, painting, and homemade gift-giving, this is definitely the craft for you.
---
Pine Cone Christmas Trees
Lastly but certainly not least, I came across this adorable pine cone Christmas tree craft while browsing Pinterest. You'll need pine cones, green spray paint, old wine corks, scissors, a hot glue gun, and miniature wooden stars to put on top. I like this craft because it's nature-inspired and rustic, similarly to the mini twig yarn trees. This craft is great for people like me who prefer a neutral, somewhat minimalist tone, and I think it would look great in my all-white apartment. I'll have to do some searching around for pine cones!
---
Original Links: 
https://www.housebeautiful.com/uk/decorate/a2962/how-to-make-mini-christmas-tree-decorations/
https://www.thebestideasforkids.com/christmas-tree-pasta-macaroni-craft/
https://www.babble.com/crafts-activities/pinecone-christmas-trees/?cmp=smc%7C664839695
https://www.createcraftlove.com/lighted-burlap-garland/