With December marking my two-year anniversary as a vegetarian, I felt it was time for me to summarize some of my all-time favorite planty snacks. Now, does "planty" equal tasteless, bland, and "too healthy?" Absolutely not! I promise all of these snacks are filling, easy, and delicious to snack on. Especially being a college student on the go, it's important to me that I can whip up healthy snacks when I'm short on time or in a rush. You'll notice that many of these snacks are high in protein. Trust me, that's no accident!
---
Peanut butter banana toast | Protein, Potassium, Fiber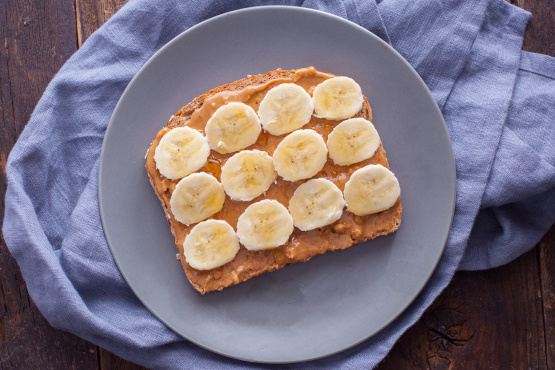 This is probably the thousandth time I've mentioned peanut butter banana toast on my blog, but trust me when I say I cannot get enough of it. It's so delicious, so filling, and so quick to make. It also uses a lot of staples from my dining hall, so I can conveniently make it at school as well. Peanut butter may not be the healthiest thing out there, but it is a great source of vegan protein. This makes for a great breakfast, midday snack, or even a dessert if you're feeling fancy. Also, it takes tops ten minutes to prepare and seconds to eat. 
---
Overnight oats | Energy, Magnesium, Protein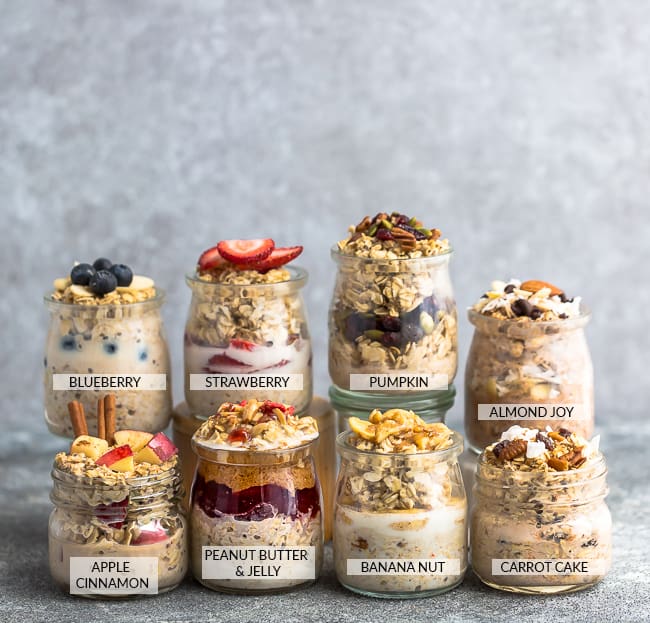 My mom and I started getting into overnight oats about six months ago, after we stumbled upon the recipe in a Body Boss cookbook. There are countless ways to prepare overnight oats with a variety of different fruits and nuts, but the ones we make have rolled oats, chia seeds, almond milk, and frozen berries. That's it. It really is that easy. I like to prepare 4-5 mason jars of overnight oats on Sunday evenings (because, you know, they're overnight oats), and then I have ready-made breakfast for every day of the week! Also, none of those ingredients are even remotely expensive. Quaker rolled oats? Frozen berries? Milk? It's such a poor man's feast. Five stars from me.
---
"Banilla" yogurt with banana granola | Calcium & Antioxidants
Yogurt isn't the most healthy option for breakfast or snacking, but hey, it's a lot better than  ice cream or a plate of nachos. Aaand, when you sprinkle granola onto the bowl and mix it in? Big nut. (No pun intended.) My favorite brand and flavor of yogurt is the Stoneyfield "Banilla," which, as you may have guessed, is vanilla and banana. I like to make it feel a bit healthier by adding in fresh bananas as well, if I'm really feeling crazy. Nonetheless, it's a small yet satisfying meal, and takes basically no time to whip up.
---
Huel shakes | Nutritionally Complete
I've mentioned Huel before on my blog, because I think it's a genuinely great product that comes from a great company. Huel shakes contain all of the essential nutrients and minerals you need to stay healthy, so it's essentially equal to a meal (so I guess you could theoretically live off of these, though I don't recommend trying that). I also love Huel because they're a relatively low-waste option; rather than drinking your coffee or eating your food from a plastic container, you can whip up a huel shake in your blender and drink it from a to-go cup. I love the variety of flavorings I can add to the shakes, and I always feel full for hours after drinking one. As a woman on the go, this is a win for me!
---
Avocado egg toast | Protein & Fiber
Avocado egg toast is like the sassy, savory sister of peanut butter banana toast. They're both delicious and simple to make, but in different ways. Avocado, as you've heard twelve thousand times, is a highly nutritious fruit with a subtle, creamy flavor. I personally don't really like avocado on its own, but it's absolutely divine when combined with a yellow, gooey egg. If you're feeling really fancy, you can even sprinkle some "everything bagel" seasoning on top. Or, if you want to substitute the eggs, try avocado toast with strawberries on top!
---
Clif protein bars | Quick Energy
Okay, this one is a little bit lazy because you don't have to actually make anything, but I still consider Clif bars to be a great snack on the go. Sometimes, I don't have ten minutes to spare for breakfast, especially on the days when I have three morning classes back-to-back. Clif bars are compact, clean (no annoying crumbs!), and they have a variety of delicious flavors to choose from. My personal favorite flavors are chocolate mint bars and banana chocolate peanut butter, so those are the ones I've been packing in my school bag this week.