I've always been so fascinated in clothes, makeup, and the general idea of how style evolves over time. For that reason, today I want to review all of the fashion/beauty trends thus far in 2020. I want to cover everything from what color palettes are "in" to what textures and prints people are loving right now. Without further adieu, let's get into it!
---
60s Wallpaper Prints
Of all the trends I've come across online, this has to be one of my favorites. I'm a huge lover of all things vintage, especially elements that are particularly feminine. Fashion in the 60s was such a time of creativity, freshness, and truly, so much joy and freedom within the newfound wave of clothing. Back when I was studying fashion in college, I remember absolutely loving learning about clothes in the 60s and how paramount this entire movement of art really was. I can't really afford any new clothes right now, but I'd totally love to pick up some vibrantly-patterned, colorful clothes for this summer. I also love the blocky shapes of the dresses as well!
---
Campy, Colorful Throwbacks & E-Girl Fashion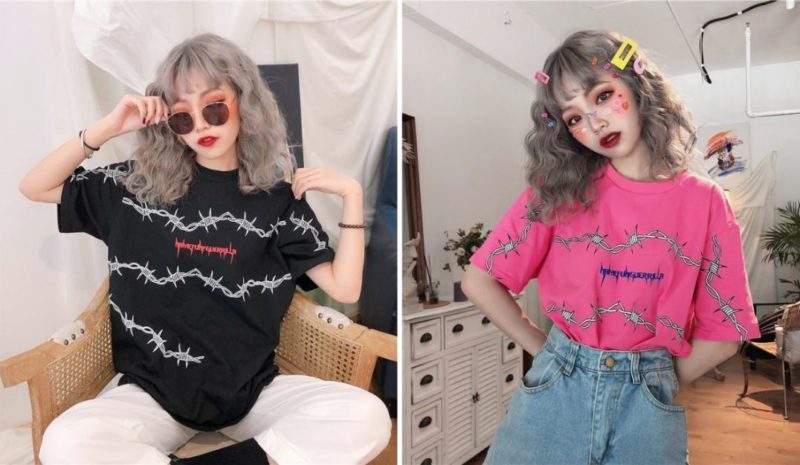 This trend is particularly popular among the younger generations, as it draws a lot of inspiration from the early 2000s and the nostalgic, cartoonish feel of that era. I personally have been utilizing this trend myself in my own personal style: tons of blush, fake freckles, shaggy hair, and lots of pink eye makeup. I think it's a really unique adaptation of the punk/emo movement combined with traditional Japanese fashion, and I think the elements with the look are so universally flattering as well. What do you think about this wild trend?
---
Bright Warm Tones and Faded Cool Tones
According to the Pantone website, top colors for the Spring/Summer 2020 are going to be bold reds, cool blues, army greens, and of course, a couple of pastels. I have to say, I actually think that this is a really gorgeous combination of colors, and totally unexpected in the best way. You normally don't see such rich, primary colors associated with the warmer months, so I think it's a really interesting twist on what to expect from NYFW. I'm personally loving the saffron, the coral pink, the biscay green, and the flame scarlet. In case you haven't put two-and-two together, these colors also truly complement the 60s wallpaper trend!
---
Crochet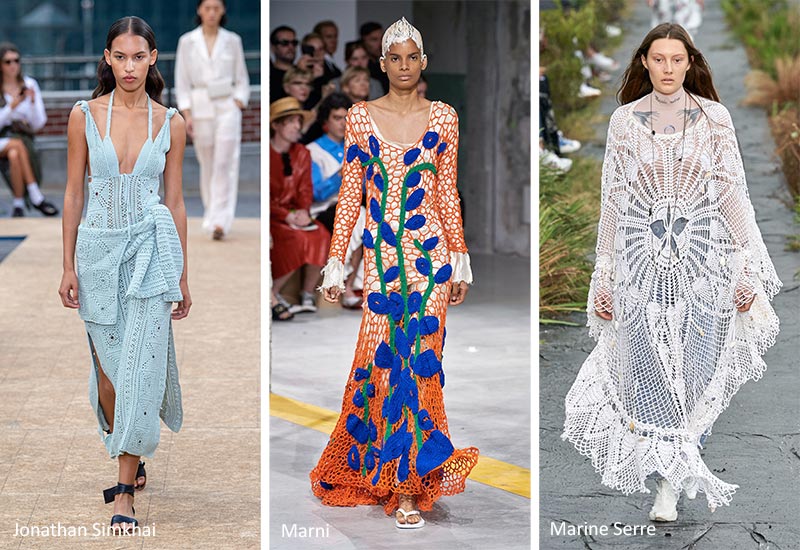 To be honest, just looking at these pictures is making me itchy! I think crochet is absolutely beautiful to admire from afar, but I'm also pretty sure I'm mildly allergic to wool. Anyway, this is yet another totally unexpected trend that I didn't see coming for 2020. I suppose it makes sense to use a warmer yet breathable fabric in the warmer transitional months, particularly since these crochet designs can be layered up or layered down easily. I also really love the intricate, boho designs of these pieces, and I see quite a bit of 60s influence as well. 
---
Hot Pants
You can judge me all you want, but I think this recurring hot pants trend is absolutely fabulous. For someone such as myself with a curvy profile, high-waisted shorts tend to look much more flattering than anything super low-cut. You're definitely not going to see me sporting anything cheeky, but those black high-waisted hot pants right there? I want them on my body right now. I love these looks from 2020 runways as well, particularly since they highlight so many fun textures and intricate patterns. 2020 has really taken hot pants up a notch and transformed them from trashy to chic. 
---
Bermuda Shorts
For me personally, I think Bermuda shorts are kinda hit-or-miss. Depending on the cut, fabric, and size you choose, they can either look super momish or very high-fashion. I personally love the way looser, belted Bermuda shorts look, such as in the pictures I included above. I also totally love the way the shorts look when paired with a graphic tee- it's so sleek and casual at the same time! Just like with the crochet trend, Bermuda shorts can be a great transitional garment to incorporate into your wardrobe as the months slowly warm up. 
---
Two-Toned Hair
This style certainly isn't for everybody, but I personally think it looks absolutely gorgeous when the right person pulls it off. For example, I could NEVER pull off Dua Lipa's blonde and black streaks, but I think it looks absolutely stunning and so interesting on her. Definitely very 90s! I've also been seeing this trend pop up on my instagram feed quite a bit, particularly with colorful dye instead of traditional colors. I think it's very youthful and creative, and I'm very curious to see how this hair trend changes over time. 
---
Anywho, that's going to be it for today! What did you guys think about these trends? Would you try any of these? Let me know in the comments!