Since moving into my new apartment, I've been spending a lot of time discovering new hobbies, recipes, and tv shows while in quarantine. I've certainly had a lot of time on my hands, and I'm so excited to share everything I've been loving this month with you!
---
Music | Grateful Dead
First of all, let me preface by saying that Nathaniel is the biggest Grateful Dead stan on planet earth, so it's impossible for me not to like them. In the past three months, I've probably listened to about 100 hours of the Grateful Dead, and I've genuinely grown to love the band dearly. It's definitely an acquired taste for some, but there are a handful of songs that I always have stuck in my head. Usually, I cycle through the same six songs when I'm making my dinner every night, starting with "Sugar Magnolias" and ending with "Touch of Grey." I think my favorite Dead song right now is "Hell in a Bucket," but I honestly can't pick a favorite.
---
TV & Movies | American Horror Story
Considering how much I enjoy watching dark, twisted television, it was a shock to even me that I never really got into American Horror Story before now. If you read my Apartment Tour article, then you know that Erin and I have been watching the show almost every single night. I just finished watching Asylum last week, and while it was absolutely gripping and outstanding, I've also been joking that I think it "damaged my psyche." If you've watched the season yourself, then I'm sure you can agree with what I'm saying. I think I'm going to watch 1984 next, though I'm open to other suggestions. 
---
Food | Overnight Oats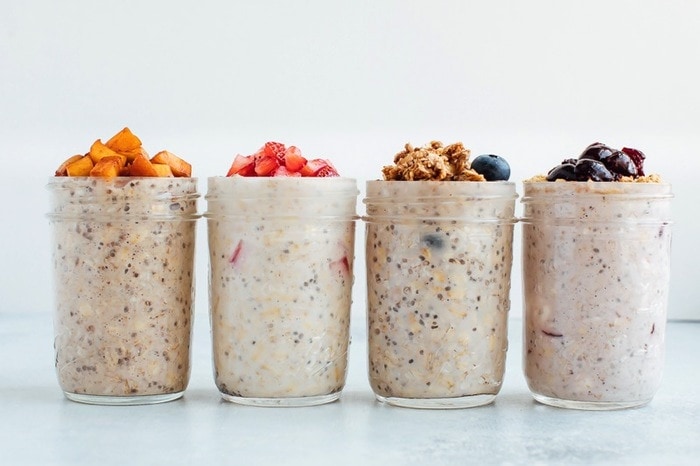 I'm pretty sure my friends and family are sick to death of me talking about overnight oats. I'm sorry that oats make me so happy, but the possibilities with this recipe are endless. You can customize them with tons of produce, from frozen fruits to ripe bananas, or you can make dessert-like flavors using yogurt cups and dry toppings. My personal favorite overnight oat recipes are strawberries + creme, mint chocolate chip, and s'mores. Tune into my meal prep article next week to learn how I make them! It's quick, it's fun, and it's easy to prepare an entire week's worth of oats in just a few minutes.
---
Health & Beauty | Eylure ProMagnetic Liner + Lashes
After I saw Jenna Marbles use magnetic eyelashes in her "Get Ready with Me to go Nowhere" video, I knew I had found my new holy grail makeup product. I love wearing false eyelashes, but I hate all the gluing and mess that comes along with it. Then, when I went to Target a couple of weeks ago with my boyfriend's mom and his sister, I knew I had to pick up a pair while I was there. I mean, they were only about $15, and considering you get an entire tube of liquid liner as well, I thought it was a pretty great deal! They work relatively well for only 15 bucks, and I've been wearing them almost every day since I bought them. Definitely a worthy purchase.
---
Hobbies | Painting
Like I said, I've needed to get back into a few hobbies now that Boston is in quarantine and I don't have a job at the moment. I've always loved painting, but a few weeks ago, I had the idea to paint a jean jacket and I haven't looked back since. I LOVE painting clothes! After I painted the jacket, I also went ahead and painted a button-up (which is on my Etsy shop, by the way,) and this secondhand suede jacket. It's a great way to individualize your clothing, especially secondhand items, and I've really loved the way everything has turned out!
---
Food | Fruity Salads
I think I've officially reached peak suburban mom energy: first the overnight oats, and now this. I wasn't really a huge salad lover until recently, but now that I've realized you can put fruit in your salad, I've been preparing them every single week. For a while I was mimicking the Panera strawberry poppyseed salad (blueberries, oranges, pineapple, and strawberries,) but for the last couple of weeks I've been really enjoying an autumn-themed salad (apples, craisins, kale, and pecans.) Probably not very interesting to people who aren't foodies, but for me, I really love coming up with new salad recipes and meal-prepping for the entire week.
Anywho, that's going to be my monthly favorites for the month of May! I hope you guys found some inspiration from my list. Stay safe during these strange times!