This was actually harder than I thought it would be to write, because there genuinely aren't that many trends that I dislike. And even if I do find a trend I don't like, I have a hard time dissing it because I genuinely don't want to step on anybody else's vibe. Even if I don't like something, it's not my place to shit on it, you know?
Anyway, after scouring my instagram feed and the internet for a little while, I did find some trends that I'm not the biggest fan of. Again, if you want to rock any of these things, I promise I'm not trying to put down your style. They're personally just not for me, and this is all in good fun!
Square-toed heels
I've never been a fan of square-toed heels, to be honest. There's just something about them that makes me think of colonial men and founding fathers. I also don't understand the appeal of making your feet look more…boxy? Like, when I'm trying to dress my feet, the last thing I want to do is make them look more square. I'd pick a pointed-toe over a square toe shoe any day. I personally think pointed or rounded shoes just look so much more elegant and refined- what do you guys think?
Bucket hats
I actually don't really have a problem with bucket hats- I'm just not a huge hat person in general, and bucket hats are REALLY trending right now. I understand it goes with the whole Billie Eilish, Gen Z tomboy-aesthetic, but for me personally, whenever I wear a bucket hat I feel like a 4 year-old boy. If I am going to wear a hat, it's going to be a beanie or a baseball cap, or something else more form-fitting and indie. There's just something about that damn hexagon hat that I don't vibe around with, thank you for coming to my TED talk.
Pink & orange
Pink and orange is apparently a trending color combo right now, and I have to say, I'm not a fan. I am definitely a more fall-toned and jewel-toned kind of gal: burnt oranges, dark grays, etc., so bright pink and orange is just not a color combo I'm drawn to. It makes me think of Bikini Bottom and kitschy summer aesthetics, and I honestly just don't think it looks flattering on everybody. Then again, I literally wish it was autumn year-round, so maybe I shouldn't be allowed to have an opinion on what summery colors are "in" at the moment?
Mullets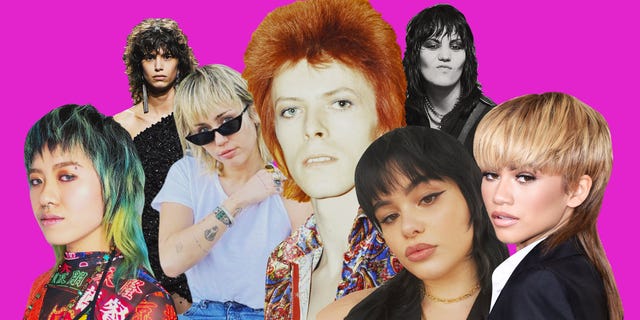 Let me defend myself by saying I think all of these women are absolutely stunning, I just really hate the mullet trend. First of all, I feel like a mullet isn't a practical hairstyle to have long-term. What does it look like when you let it grow out- is your hair just really full and luscious on the top, and stringy on the bottom half? I have so many questions about the logistics of the mullet.
Polo shirts
There's nothing I can say about this one that's worth trying to justify, I just flat-out think polo shirts are ugly. Maybe it's because I associate them with being in middle school, but I truly just do not think they are flattering or fashionable AT ALL. I cannot think of a single person on this entire earth who I think could pull off a polo shirt. They look ugly on everybody. Case closed.
Well, that felt awkward to write. Like I said, I really don't like ragging on anybody else's personal style, but these are the trends so far in 2020 that I just can't see myself giving into. Do we share any opinions? Do you disagree with any of these? Let me know in the comments!